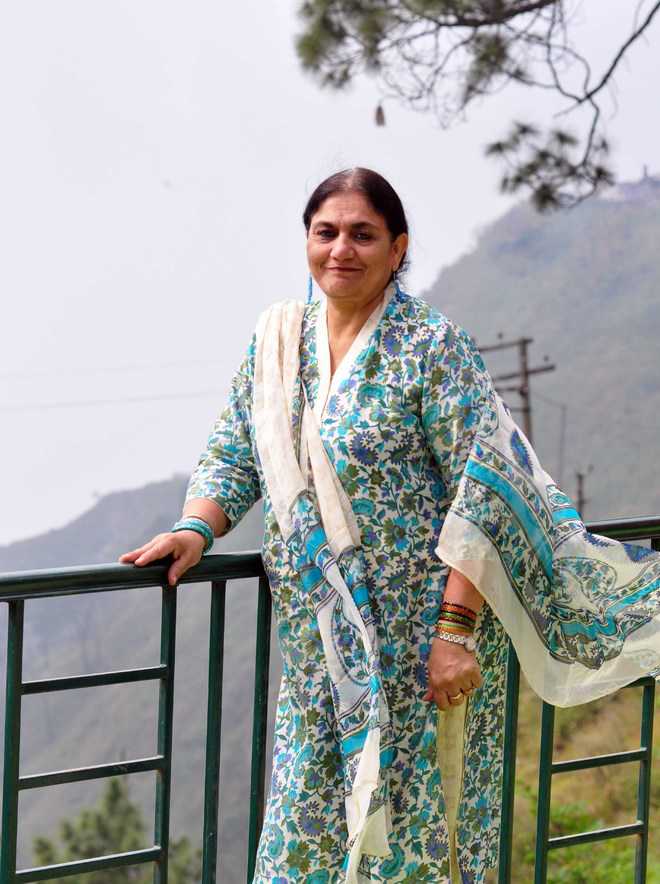 Nonika Singh
As winds of acrimony continue to blow fast and strong, here's a sane voice and a strong votary of collective heritage. Madeeha Gauhar, an eminent theatre person from Pakistan, is not a new name for Chandigarh or the region for that matter as her plays have run to packed houses in the City Beautiful. The woman, who believes in the power of art to mend broken hearts, in an email interview, speaks her heart out...
You have received so much love and adulation in India. How do you look at the current impasse?
It is unfortunate and frustrating. But I am sure it is a temporary phenomenon and the acrimonious blame game is not shared by the people on both sides. There have been such stand-offs in the past and have not deterred us from our work for peace.
Do you think banning Pakistani actors in India and banning Indian films in Pakistan is any solution to any problem?
Banning is never a solution. In fact, it produces the opposite results. Banning Pakistani actors is not going to affect their fan-following in India and taking off Indian movies from Pakistani screens will definitely not reduce the Pakistani viewers' appetite for Bollywood. People find other ways of reaching out. Even before Bollywood discovered Fawad Khan or Ali Zafar and Zindagi channel brought Pakistani TV dramas to Indian homes, Pakistani dramas were popular among Indian audiences. On this side of the border, video shops have never stopped offering Bollywood movies even in the times of war. Music from both sides could not be contained by the border fencing ever since Partition.
Do you believe actors are soft targets and the first axe always falls on them?
Unfortunately actors, artists or sportsmen are the first target of hard-liners because they are popular and prominent. Attacks on artists are convenient for scoring political brownies. It is interesting to note that trade across the border goes on as before. Diplomatic relations continue as usual. But the release of Shah Rukh Khan or Karan Johar's film faces problems.
Your play Bulha that has been so acclaimed in India talks of universal love and brotherhood. Do you feel this more than any other is the time to talk of collective heritage?
The Indian audience response to our play Bulha has always been overwhelming, even in places like Kashmir and Kerala. We performed Bulha at a festival in Thrissura few weeks after the Mumbai attacks (which we strongly condemned). There was a protest outside by the local BJP. I invited them to see the play and they were the first to come on stage to appreciate the play's message of peace and tolerance. Our theatre for peace festivals were inaugurated by the BJP Minister for Culture in Delhi and BJP Mayor in Chandigarh. Theatre, films, music and literature transcend political divides. We have shared history and heritage of thousands of years. These bonds cannot be broken by war-mongering and demonisation of each other by vested interests on both sides.
Do you think artists from both countries need to speak in a collective voice? Or, the clamour that is growing louder by the day has no place for sane and reasonable point of view?
Artists speak the language of love and goodwill. They must speak collectively and forcefully, but not through screaming matches on the media but by carrying on singing and dancing and performing. We have performed all over India in easy and tense times. In 2012, when the performances of our play on Manto in Delhi was cancelled due to LOC tensions, theatre activists and civil society arranged alternative venues and the performances were well attended. We have invited many Indian theatre groups to perform in Lahore and they have always been showered with affection. Earlier, this year, Indian directors (Kewal Dhaliwal and Usha Ganguli) have directed plays for us. We are going to carry on with our cross-borders cultural forays come what may.
Do you see a way forward?
There is no other way. We not only share geography, but also history, culture, literature, art … destiny. The only way is the way forward. I am sure sense and sanity will prevail and our leaders will get down to solving the problems through dialogue and negotiation.
What would be your message to India and to your home country?
Do not lose hope, have faith. Do not listen to the preachers of hate and violence. Let the songs of Bulleh Shah, Bhagat Singh and Kabir drown acrimony, hatred and intolerance.
nonikasingh@tribunemail.com
Top Stories