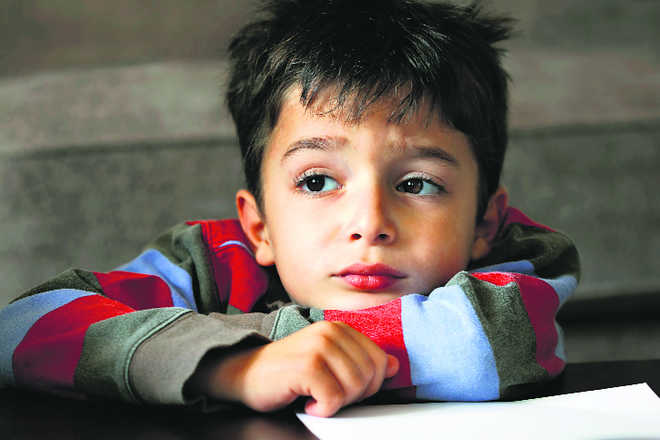 Aditi Garg
"I am bored...," these are the words that every parent dreads but these are being heard increasingly rarely. It is so because kids don't have the luxury of getting bored any more. They have packed schedules where every moment is accounted for. In being busy with outdoing other kids to please their parents, they can no longer just sit back and do nothing, whining about getting bored. While it may not be what you as a parent would want to deal with, it surely goes a long way in ensuring your child has something to mull about.
Enrichment trap
Most parents live in a constant state of worrying that they may not be doing enough to expand their child's capability. The tendency is to enrol their child into the next class that they hear someone else's child attending. It is the enrichment trap — an infinity loop where whatever your child may already be doing, it is never enough and there is a continuous search for the next best thing to learn. With barely time to scratch their backs between classes, they are in a state of constant stimulation, making it impossible to slow down, let alone stand still.
Clinical and child psychologist, Dr Deepali Batra, who runs Pals for Children in Delhi, says "Parents wish well for their kids and sign them up for many classes. While they may enjoy them initially, the kids lose interest in them gradually when they find that it is a duty they have to fulfil and not something fun. What is recommended is not more classes but periods of silence and time to laze around with no instructions. Depending on the intellect of the child, it enables them to discover and plan new things." Self-discovery and the hunger to learn are not something they can learn anywhere but only when they have freedom to follow their hearts.
Diversion & direction
With nothing at hand, they are suddenly clueless as all their lives they have always had instructions about what to do next. It might be disorienting for them initially but gradually it will be a time they look forward to. It provides them with a much needed alternative way of living, one where there are no rules to consult and they can let their mind wander freely and visit the garden of creativity. Nourish this creativity, encourage the curiosity and see their everyday life take a new direction.
Not just kids, it is a novel way of discovering pleasurable activities for parents as well. On days when their regular classes are off, Sheenum and Tarannum are all over their mother, wanting to be instructed as to what to do. It is at times like these that Jammu-based Meera Sood, mother of the twins, asks them to raise their hands skywards and wait for ideas to come to them. "Since they are just five, they don't put up much resistance. In a way I am glad there are not many classes available around where I stay, so they end up thinking of something to do. They have made pinwheels with leaves, sand castles with leftover sawdust and even told stories holding vegetables as characters. Every time I feel the urge to send them off to a class, I tell myself that there is no need to spend money and time on things that they will learn on their own, and with better understanding." Not all parents can resist the urge to pack the kids off to a hobby class and in today's world, it is a tough call.
Let them laze around
Next time you feel compelled to suggest something constructive, bite your tongue. As kids, their physical limits are much lower than required by the kind of regimes parents draw out for them. The result is a child who is understandably tired, cranky and stubborn. Even if it takes every bit of self restraint you have, resist the urge to call out to them to do something else as they look at the rain outside, or at a lizard as it runs across the wall, or even they are just bouncing a ball a hundred times over. This is the time when they wonder about a million different things that no amount of teaching can make them think up.
National curriculum Framework 2005 by the NCERT suggests that "If, instead of ignoring children's comments or sealing their tongues with strict rules of silence and restrictions on the language to be used, teachers encourage children to talk, they would find that the classroom is a more lively place and that teaching is not predictable and boring, but rather an adventure of interacting minds." Encouraging them to think for themselves beyond the stipulated course makes for a more meaningful experience.
The next time they have nothing to do and want you to tell them what to do, tell them that if they are smart enough to know that they are bored, they are smart enough to find a way out.
Boredom breeds creativity
Away from the engaging networked world that we live in, lack of external stimuli leads to boredom. So, we look inwards for inspiration and that is the wonderful world of daydreaming. While the school may not be the best place to indulge this art form, it does promote a healthy imagination. Karen Gasper and Brianna Middlewood of Pennsylvania State University studied a group of volunteers, who first watched a video with clips that evoked specific emotions and then they were given two creativity tests. They found that the group that was bored after watching the video did much better than those who were happy, sad or relaxed. Another researcher, Andreas Elpidorou from University of Louisville, found that boredom was key in reaffirming our goals. It acts as a caution against not doing what we want to be doing and pushes us to change track. In short, science backs the need to be bored in moderation.