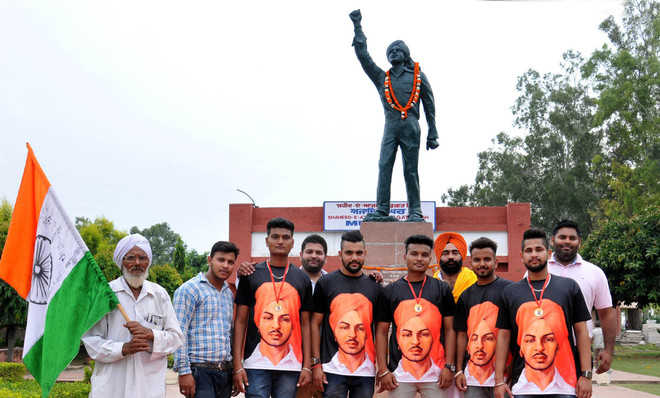 Vishav Bharti
Tribune News Service
Chandigarh, March 22
How did Bhagat Singh and BR Ambedkar perceive each other?
This question has been asked to chroniclers of the freedom movement a thousand times. But the finding of a piece written by Ambedkar, which was published after Bhagat Singh and his comrades' execution, gives a new dimension to the whole issue.
In an editorial by Ambedkar published in Janata on April 13, 1931, he had argued that Bhagat Singh and his comrades were hanged in deference to public opinion in England.
Prof Chaman Lal, a former teacher at Jawaharlal Nehru University, said the journey to find this editorial started in 2006 during a private visit to Chennai where he found a wonderful editorial written on the hangings by freedom fighter Periyar on March 29.
"I started browsing Ambedkar's writings to ascertain whether the latter had written something on Bhagat Singh and his comrades. I could also not find anything in 25 volumes of collected works," he said.
Then on January 30, Subodh More, a grandson of RB More, sent me the original Marathi version of the editorial. "I requested Anand Teltumbde to translate it in English," Prof Lal said. The editorial was published in English early this month.
He said, "The editorial has great value when the youth is in an uproar and the way ahead lies in the combination of the ideas of Bhagat Singh and Ambedkar."
Teltumbde, the English translator of the editorial and Mumbai-based social activist in his introduction to the translation says, "The relevance of the ideas of Bhagat Singh and Ambedkar is growing. How did they perceive each other? There is no evidence of either of them saying anything about the other. However, we do know that Bhagat Singh had grappled with the Dalit question. He had written an article titled Achoot Samasya (Problem of Untouchability) at the age of 16, but it still has freshness and reflects the amazing maturity of thought to be relevant for the struggle of Dalits. Ambedkar did not write on the revolutionary movement of Bhagat Singh but has written an editorial note — Three Victims — when they were hanged. Though it does not speak about their struggle, much less politics, it explains how their execution was influenced by political expediency back home."
Ludhiana-based nephew of martyr Prof Jagmohan Singh, says, "This editorial answers several questions. Both of them were very important figures of the freedom struggle. It has historical significance due to two reasons, one is that when a law luminary like Ambedkar says that the three youngsters were sacrificed to please public opinion, it holds a great meaning," said Singh.
The second significance, he says, is that Bhagat Singh and his compatriots his never appealed for mercy from the court.
Top News
Accuses him of 'using the most traumatic historical events a...
'World has seen a new India rising, more so after the Covid ...
2 IAF pilots awarded for Afghanistan mission