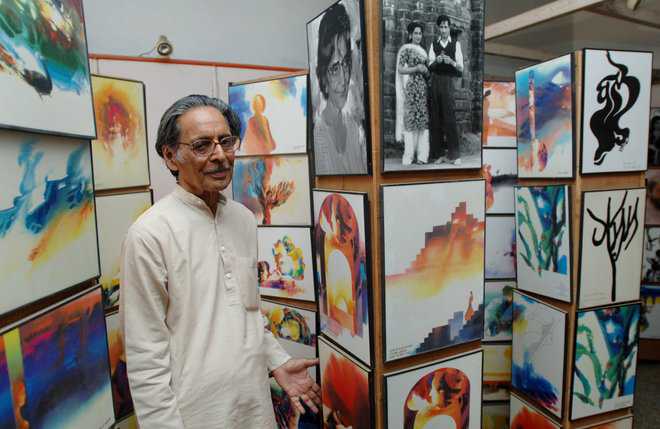 We have heard numerous stories of love. Many adorn the annals of history while others have inspired exceptional literary texts.
One such love legend of our times is that of Amrita Pritam, renowned author and poet, and Imroz, her long-time companion, soulmate and a painter.
Steve Maraboli, a famous motivational speaker and author, had once said, "She lives her life like a flame; a dance of purposeful chaos… A weak man will try to dim her luminance…but her soulmate will take pleasure in fanning the blaze."
These words, although spoken in a different context, aptly sum up what Amrita meant to Imroz. Amrita did live like a flame. A revolutionary and an iconoclast, she believed in the celebration of love. This was not only a major paradigm of her eventful life but it also formed the common ground where she and Imroz met. For more than 40 years they lived in this celebration of life, their only commitment being that of an unspoken, unsaid and unconditional love for each other.
The man of her dreams
Imroz lived in Amrita's dreams much before he became a part of her life. She tells the readers in her autobiography Raseedi Ticket that for nearly 20 years she saw the silhouette of a man in her dreams, a man who sat near a window with a paintbrush in his hand. Although she could not see the face of the man but this dream of her youth ceased to haunt her after she met Imroz.
In Imroz, Amrita found the man of her dreams and in Amrita, Imroz found his universe and his inspiration. She was the subject of all his paintings. The lobby of their house in Hauz Khas, Delhi, overflows with colours. From each and every colour emerges a face — that of Amrita, his muse and his eternal love.
Amrita meant the world to Imroz. His acceptance of her was complete. When they met, Amrita was already married and a mother of two, and passionately in love with Sahir Ludhianvi. Imroz never insisted on marriage with Amrita for she had had an unhappy experience. Her children became "ours" for him.
Imroz was also well aware of her passionate love for Sahir. In an interview, he had explained that he never objected to any of her feelings. For many years after the Partition, Amrita worked for All-India Radio in Delhi. Every day Imroz would drop her and pick her up from her workplace.
Sitting pillion, Amrita would keep on scribbling something on his back. Once, when Imroz was trying to decipher her scribbles, he realised that she was tracing Sahir's name on his back. But so deep was his love for Amrita that he never had a problem with even this act. "The feeling was hers and my back was hers too. How can I feel bad? Sahir is a part of me, too. His name has been inscribed on my back," he had said, laughing.
A love without judgment
Imroz, well into his nineties now, believes that when you love someone, you just accept the person in totality. There is never a disagreement, never an argument. According to him, "A person in love never asks why. A lover accepts everything about the beloved unconditionally." Such was the intensity of Imroz's love for Amrita.
They first met when Imroz was called upon to design the cover of her award-winning poem Sunehre. He was a struggling artist then and was working for an Urdu magazine Shama. He remembers having asked Amrita the name of the person for whom Sunehre was written. Amrita blushed and from that crimson glow arose a light that was to burn in their hearts forever. The two kept meeting often after that. Subsequently Imroz moved in with Amrita in K-25, Hauz Khas, New Delhi, where their love story was to unfold and become a classic of modern times.
Amrita wrote about him:
Baap veer dost te khawind
Kise lafaz da koi nahi rishta
Unj jadon main tennu takkya
Saare akhhar guuhrhhe ho gaye

Devotion of a lifetime
Imroz devoted all his life to Amrita. The only paradigm of his life was to be by her side forever, even though it meant a whole lot of sacrifice on his part, both on the professional and personal fronts. Amrita's career blossomed and she became a towering literary personality with several laurels to her credit. Imroz, though equally talented, chose to silently live in her shadow.
It is well known that though they lived together, they never encroached into each other's space. Amrita would start writing at any time, even in the middle of the night, and Imroz would quietly keep a cup of tea near her.
In his letters written to her during the times they had to be away from each other for professional commitments, Imroz talks about several terms of endearment that he used for her. He would often call her Barkate, which in Punjabi means abundance. "My frugal fare blossomed into plenty with her touch," he remembers.
Amrita was well aware of the age difference between Imroz and her. Once she told him that he should go and experience the world outside and then decide about the best course for his life. When Imroz heard this, he got up and went around her several times and told her, "Here! I have gone around the world and am back to you."
Once, while he was in Bombay, he wrote to her:
"My universe! My devotion! I bow to you! The moment I bow before you I feel the nine hundred-mile-long desert that separates us has faded into oblivion. As long as you are my destiny, I am not scared of any misfortune."
Muse and soulmate
If the world saw Amrita as a writer, for Imroz she was both — a woman and a writer. Together they enjoyed the bliss of domesticity. Amrita, who never used to cook, now started making rotis for Imroz.
Once while the artist was in his studio, Amrita asked him what she meant to him. Imroz quietly dipped his brush in red paint and made a dot on her forehead.
For him she was a muse, a woman and his soulmate. Towards the end of life's journey, Amrita fell ill and Imroz nurtured her with all his heart and soul. Even now he does not believe that she is no more. "She lives around me, I can feel her presence." After her death, the painter picked up the pen, as well. He published a book of poems Jashan Jaari Hai (the celebrations go on). It reflects his state of mind after Amrita passed away.
Main jab khamosh hota hun
Aur khayal bhi khamosh hote hain
To ek halki halki sargoshi hoti hai
Uske ehsaas ki
Uske shayron ki...
On her deathbed, Amrita must have contemplated about her life with Imroz and perhaps also about the fact that he would be left alone. Her famous last poem Main Tennu Pher Milangi is addressed to Imroz:
Main tenu phir milangi
Kithe ? kis tarah ? pta nahi
Shayad tere takhaiul di chinag ban k
Tere canvas te utrangi
Ya koray tere canvas de utte
Ikk rehasmayi lakeer ban ke
Khamosh tenu takdi rahangi
Main tennu pher milangi
And the legend has it that she will!
— The writer is the author of Amrita and Imroz — In the Times of Love and Longing, a translation of letters between Amrita and Imroz