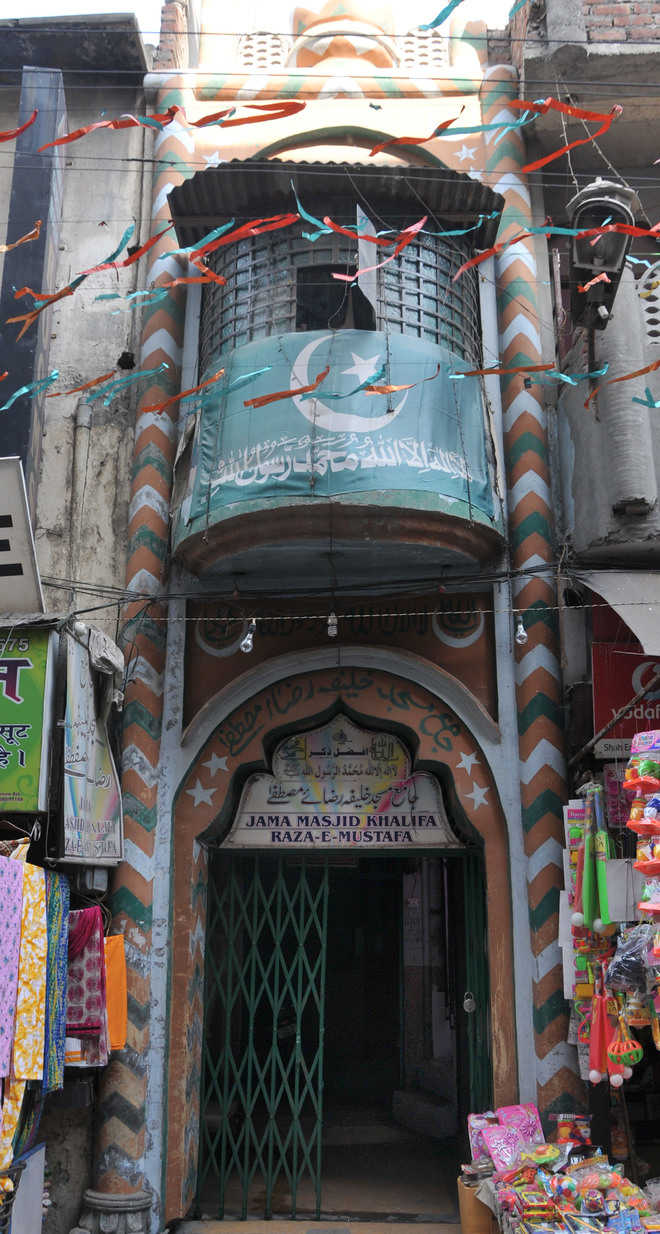 Neeraj Bagga
Tribune News Service
Amritsar, October 17
Even as crores have been spent on laying a beautiful road to the Golden Temple, the plan did not include the historic mosque, which is believed to have been raised at the place where Sai Mian Mir offered namaaz when he had come to the holy city to lay the foundation stone of the Golden Temple.
Recently christened as Heritage Road, marked by beautiful statues and fountains from the Town Hall to the Golden Temple, the road is proposed to be thrown open to the public on October 24 when Deputy Chief Minister Sukhbir Badal would lead representatives of media houses for a walk on it.
The mosque, which shares a wall with the Jallianwala Bagh, is just 100 yards away from the sanctum sanctorum of the Golden Temple.
The place where Sai Hazrat Mian Mir performed namaz after laying the stone of the Sri Harmandar Sahib stands testimony to the composite culture of the city. However, caretakers of the mosque rued that the government and its agencies did not make efforts to even install a signboard to establish the visit of Sai Mian Mir.
Sayyad Mohammad Ikram Shah Qadri, incharge of the mosque, said the road with colourful tiles and Nanakshahi bricks, had transformed the area. However, no attempt was made to educate the masses about the mosque used by the Muslim saint during his stay in the city when the stone-laying ceremony took place.
He said, "The Muslim brethren performs namaz every Friday and the mosque remains open 365 days of the year for prayers."
He said it was the Fifth Sikh Master, Guru Arjan Dev, who got this area of the present mosque earmarked for Muslim devotees. He had accompanied the Sai Mian Mir.
As per the personal diary maintained by Sai Mian Mir, he performed namaz for 14 days here. He said the diary had been preserved by Sai Hazrat Makhdom Syed Chan Pir Qadri, who claims himself to be the 19th direct descendant of the "Gaddi-Nashin" of Sai Mian Mir, in a bank locker in Lahore.
The mosque is perhaps the oldest in Amritsar city. It was damaged during the Partition.
Qadri said the Union Government identified 3,378 Sunni properties, including mosques, graveyards, takkias and khankahs in Amritsar and Tarn Taran districts. The same was notified on January 9, 1971.
Of these, 1,259 Sunni Wakf properties exist in Amritsar city and its periphery. There are 416, 867 and 834 Muslim properties in Patti, Tarn Taran and Ajnala, respectively.
Top News
The BSF personnel open fire after noticing the movement of t...
India formally assumed the G20 Presidency on Thursday
The move will allow more than 200,000 workers who have famil...