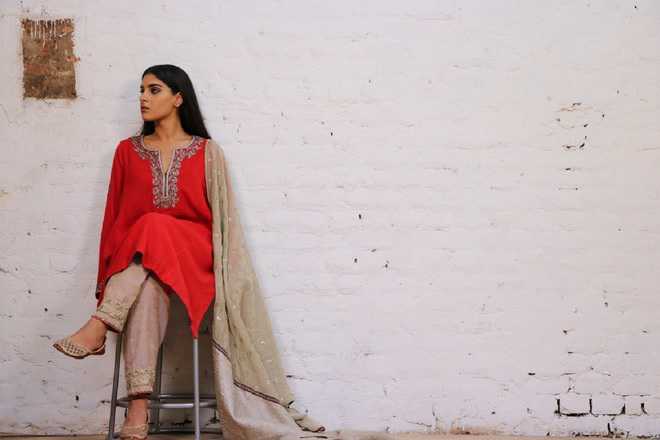 Jasvinder Kaur
When we visit our friends in Chennai in December, it is a delight to attend the annual Carnatic music festival. I have always been amazed at the way women would turn up for the event wearing the latest Kanjeevaram silk sarees. But things are changing now. One sees not only young girls but also older women with grey hair elegantly dressed in the latest style salwar and kameez. The traditional half-saree, similar to the dress worn by Deepika Padukone in Chennai Express and Alia Bhatt in 2 States, is not the attire on the street anymore. The same has been replaced by the salwar kameez. Punjabi suit, as it is commonly called outside the state, has also invaded other states in the East and the West. Slowly but surely, it has overtaken other traditional dresses in popularity. Having evolved over the years in style, it has become the modern way of dressing and is bringing about uniformity in dress throughout the country.
How it all began
Late 19th century writers like Baden Powell (1872) as well as many district gazetteers like that of Hoshiarpur (1883-84) district mention dress of women consisting of a pair of drawers suthan or pyjama, a short kurti, a ghagra and a chaadar or dupatta. Similar observations have also been made by innumerable other writers many decades later. Except the ghagra, the other three garments of women's dress had more or less been fixed by then, and have remained so for more than 100 years, with some regional variations. With time and change in fashion, the length and width of garments have transformed to the demands of the fashion changing details off and on. Obviously the salwar and kurta of the 19th century would be very different from that of present times.
Wearing of ghagra was very important for women, as they would not step out of the house without one. This they would wear over their salwars. Many European writers, equating garments with European terms, often term ghagra as a petticoat, which in western dress is an undergarment, though in Punjab it was worn over the salwar.
As a child one would hear stories about how women would starch the malmal ghagra using starch and crushed mica to give it a shimmer. Ghagras of Punjab were not structured like those from Rajasthan and was only a piece of cloth that was strung by a traditional drawstring or narra to make gathers. The material could vary from thinner malmal to khaddar to harishal, which has references in folk tales and songs. Length could be from nine to 25 yards depending on the material. The ghagra was worn till the late 1940s. Its usage declined after India gained Independence. Somehow the lifestyle of people changed with changed priorities. Partition had its effect on some of the other garments, embroideries and patterns.
The kurti, a short garment, seems to have developed from being an undergown of 19th century. Watson (1866) mentions it as a shirt or undergown worn by both Hindus and Mohammadans and made of muslin cloth called kameez from Dacca. Baden Powell writing in 1872 talks of jat women wearing kurti or chemise.
In Europe, chemise was women's loose white cotton garment of the late 18th century. It was different from other contemporary dresses in having unfitted bodice and was worn over the head. That was, perhaps, the similarity to loose kurta, and hence the name. In Punjab, chemise is a commonly used word for a slip worn by women under their kameez.
The dress of late 19th century has been captured in paintings and later photographs. The length of the kurta of this time was much shorter than that of men's kurta. It had short side slits. Different writers have given different descriptions as the style may also have variations with different regions and ethnic groups.
Baden Powell describes the kurti as a full cut tunic with large open sleeves reaching a little below the waist. With time, it developed into a longer garment of today, which was generically called kameez, the word being Arabic in origin.
For some, kameez is also a garment with collars and cuffs that had been worn in Punjab in the early 20th century. It is still worn by older women in the interiors of Haryana. Drawing its inspiration from men's English shirt, this style was also popular in Punjab. The word kameez seems to have stuck in modern usage. Today it is broadly used for any kind of upper garment worn with any kind of bottom — a salwar, a churidar pyjama, or even a modern plazzos.
The lower garment or the salwar was also interchangeably called suthan. This comes up in writing at many places where suthan appears as a dress of women often made of striped silk called susi or with mungashari silk (mixed cotton and silk). It was also worn by different ethnic groups. Churidaar pyjama was also worn in Punjab as is illustrated in many paintings of the 19th century.
A large dupatta that gracefully folded over the head and covered the whole body in the 19th century was, perhaps, for the purpose of purdah. It has been transformed from being a wide long chaadar or dupatta to a modern narrow width dupatta.
Shift in dressing preferences
The popularity of the Punjabi dress has made a shift in people's dressing preferences. The half-saree, which young girls wore once they reached puberty, has now been almost replaced by salwar kameez in the metros. In the past 10 to 15 years, another change has happened among the dress of the middle age women as well as the elders of Tamil Nadu. They have for many occasions shifted from saree to salwar kameez for walking or other leisurely activities. In the past The Indian Ladies Magazine of 1934 had also observed that women then would only wear a saree, even for playing sports or walking, etc. It was indeed the West that had introduced the concept of dressing differently for different activities.
Schools in many states from Class VI onwards have made salwar kameez as school uniform. A teacher from Vidya Mandir, Chennai, explains how the dupatta has been replaced by a koti, a kind of a sleeveless jacket. Salwar kameez has also emerged as the dress of college students and young working girls. One of the main reasons for the popularity of the Punjabi suit in different parts of the country has been due to the fact that this dress does not expose any part of the body, a reason readily accepted by mothers of young girls. It is a generational change as well for young girls, who are happier wearing jeans and tops. However in many traditional homes in smaller towns, the western alternative of jeans and top is not readily accepted but salwar kameez is.
Traditional clothes like the half-saree as well as the saree are not really out of women's wardrobe in Tamil Nadu but have remained as the dress for festive occasions and weddings. The Punjabi suit is the dress of the young, the elderly and the office staff for daily wear. The European school uniform of skirt blouse and a tie has been replaced by the salwar kameez in many schools.
From being a regional dress, it has emerged as the Indian dress of the metros bringing uniformity in dressing from North to South and East to West in the true Indian spirit.
Top News
Premises connected to news portal's journalists raided; 46 s...
Prime Minister accuses BRS dispensation of 'looting' funds m...
This is the gist of the letter sent by CM to Banwarilal Puro...
Also said that it's important for Canada to have diplomats o...
Petitioner contended that the nature of information sought i...