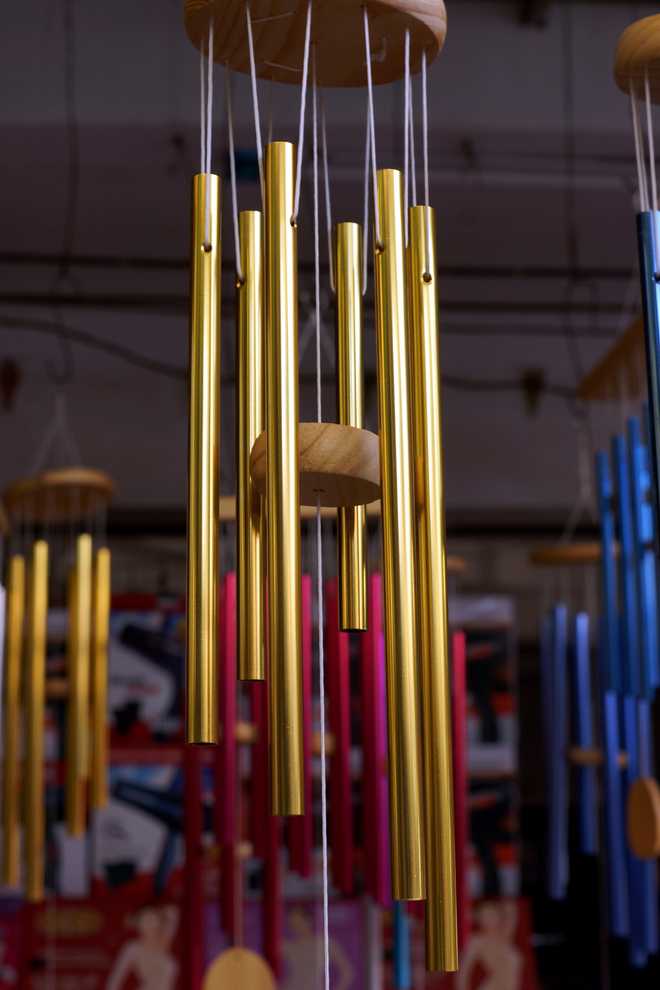 Madan Gupta Spatu
Q. The entrance to our home is from west. We have a metal wind chime with 9 rods hung at the entrance. Someone said that it is not advisable to hang metal chimes in any portion of house. Is it true? — Surjit Singh.
A. Wind chimes are used as a rectification tool to remove the Vaastu defects. These help in maintaining the postivity in environment. Wind chimes are made of different materials -
1. Metallic Wind Chimes.
2. Bamboo Wind Chimes.
3. Ceramic Wind Chimes.
4. Glass Wind Chimes.
5. Wooden Wind Chimes.
Different types of wind chimes are used for different purposes.Hollow rod wind chimes are beneficial as these help in the flow of energies. These have the power to attract good luck, bring success in life and the capability to make life wonderful if used properly under expert guidance. These can also be used in study room, drawing room etc for postivity besides on doors or windows.
There is no problem if you are not focusing on rod numbers, but for best result it is good to consult and then use the right number of rods to solve special problems.
DIRECTIONS and Type of Wind chime
1. In north, north-west and west direction the metallic wind chimes are favourable.
2. In east, south-east and south direction wind chimes of wood or bamboo are good.
3. In the north-east and south-west direction ceramic or glass wind chimes will help to open the way for success.
Best use of wind chimes:
1. If there are regular doors facing each other then do hang a wind chime of 9 rods in between to remove Vaastu dosha of doors.
2. If there is any obstacle just in front of your door then hang a wind chime just in front of your door and that obstacle. It will minimise the negativity.
3. Use 6 rods wind chime in office for growth.
4. Five-rod wind chimes is auspicious for everyone. In your case there is no harm in hanging metallic chimes.
Q. I am crazy about white colour. Can I paint the entire interior in my favourite white or does it have to be just one wall? Please suggest tones of paint in different rooms if only white is not advisable. — Namrata
A. The colours of rooms are a direct reflection of one's personality. While most of us may not spend a lot of time thinking about room colour, it affects us every day. Room colour can influence our moods and our thoughts.
Colour affects people in many ways, depending on age, gender, ethnic background and climate. Certain colours (or groups of colours) tend to elicit a similar reaction from most people; the variations come from the shades or tones used. This is why it's so important to choose colours wisely when it comes to decorating.
Only white shade will make your life monotonous. Even White House and Taj Mhal have spectrum of colours inside.
Bathrooms
Avoid using too many colours if your bathroom is small. Instead, paint a dado on the bottom third of each wall in your chosen colour and paint the remaining two-thirds in white. Blues and greens being tranquil and clean are popular choices for bathrooms. Being cool colours, they can also make a small bathroom appear more spacious.
Bedrooms
Choose colours that are conducive to sleep. Most light and pastel shades are ideal for bedrooms. Blue is a popular colour choice for bedrooms because of its soothing qualities. However, if you have trouble getting up in the morning, you may wish to add an invigorating accent to get you out of bed.
Dining rooms
Red stimulates the appetite and is a good choice for dining rooms. Combined with gold cutlery, a dramatic air of formality will result. Midnight blue or gold are also dramatic colour schemes for night-time dining. Remember, in any dining room the table will be the focal point.
Family rooms
Families tend to spend a lot of time in this part of the home, so a bright uplifting colour scheme is recommended. Choose mid tone colours that will minimise the appearance of finger marks, animal fur and general light scuffing. Avoid using very dark or very light colours. Use patterned curtains and furnishing fabric in place of plain fabrics.
Kitchens
The kitchen is where you will tend to spend a lot of time. Bright, invigorating colour schemes can boost energy levels when you have a lot of cooking and cleaning to get through. Glossy surfaces, such as laminated cabinetry, will reflect more light and look different to low sheen painted walls, so it is important to be careful when trying to match colours in different materials. Sometimes it is better to select a tone lighter or darker rather than trying to create an exact colour match.
Living rooms
Paint a feature area in an area between the two adjoining rooms or spaces to create a natural colour break. Living rooms are the ideal place to create focal points or feature areas; choose light and dark colours if desired.
Top News
Rana Gurmit Singh Sodhi, Manoranjan Kalia and Amanjot Kaur R...
CM Bhupesh Baghel had earlier accusing the probe agency of c...
Gurpatwant Pannu, head of the banned terror outfit Sikhs For...
Satinderjeet Singh, alias Goldy Brar, is a member of Lawrenc...
Scindia quit the Grand Old Party in 2020 which resulted in t...