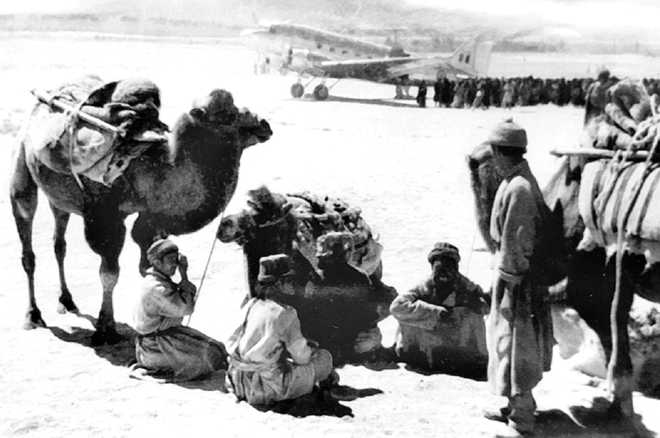 Lt Gen Baljit Singh (retd)
On the night of February 24, Zoji la was successfully crossed despite a blizzard, without any loss of life or snow injury. This was a Herculean task as they had none of the specialised clothing and sophisticated accessories, whatsoever. In Brigadier Sen's words: "It called for unbound courage, determination and stamina..."!
"That Leh was held, and the enemy deprived of the pleasure of sacking and looting it, was the outcome of a great deed which will find few equals in military history. — Brigadier LP Sen, DSO, 161 Infantry Brigade
As it happens time and again in warfare, a bunch of bravehearts fired with the ideals of honour of their country, devotion to duty and honour of their battalion, volunteer for missions unmindful of the hazardous odds. So it was that 40 soldiers of 2 Dogra Battalion volunteered for a mission over unchartered territory, crossing two Himalayan passes above 11,000 ft high, frequented by snow blizzards, sub-zero temperatures and covered about 315 km on foot in nine days!
To better grasp the necessity for such an audacious mission, a brief historical perspective becomes unavoidable. The de jure northern border of Maharaja Ranjit Singh's kingdom was bound by the ipso facto dominions of Gilgit, Baltistan and Ladakh. However, with the decline and disintegration of the Sikh kingdom, Ranjit Singh's Dogra satraps carved out Jammu and Kashmir, inclusive of Ladakh, Baltistan and Gilgit as their hereditary fiefdom, and recognised in time by the Government of India. In the "Great Game" diplomacy for Central Asia, the Gilgit and Baltistan regions had acquired a certain strategic mystique. The British, thus, created and stationed a paramilitary force, the "Gilgit Scouts" of some 600 locals, commanded by a Major and accountable to the British Army in India. But in the run up to India's independence, the jurisdiction of Gilgit Scouts under Major William Brown was transferred to the Maharaja of Jammu and Kashmir, in June 1947.
When the birth pangs of the Republic of India and Pakistan conflagrated into the Jammu and Kashmir war in October 1947, on Pakistan's machinations Major Brown and Gilgit Scouts rose in revolt, hoisted the flag of Pakistan on the Gilgit agency headquarters, placed the Governor under arrest and massacred all non-Muslim inhabitants.
Major General KS Thimayya was quick to grasp the strategic advantage accruing to Pakistan, to operate unchallenged, along the Gilgit-Skardu-Nubra Valley axes to isolate and consolidate their control over the entire Ladakh province. For the moment, the General had only one option. It was to order Major Sher Jung Thapa's Company ex 6 J&K Rifle located at Leh to Skardu and forestall enemy's entry both to the Nubra valley and the Leh region. Thapa marched off from Leh, along with 75 soldiers, on November 23 and reached Skardu on December 3, 1947, covering 138 km and held on literally till the last man to last round up to August 1948, which is another war epic story for another time.
In 1947, route connectivity between Srinagar and Leh was confined to one fair-weather, unpaved road up to Sonamarg and a pony track-cum footpath beyond over Zoji la (11,575 ft), Kargil, Fotu la (13,478 ft) and on to Leh. Today this tarmac stretch of NH1D is sign posted as 425 km but making concessions for gradients engineered to suite motorised, wheeled transport, it would be a judicious assumption that foot distance in 1948 may have been around 300 km. All through mid-winters, Zoji la usually had 20 to 30 foot deep snow accumulation and the entire segment between Baltal and Dras was prone to frequent and lethal avalanches. Furthermore, there was absolutely no availability of food, fuel and fodder for men and animals, anywhere along this axis.
Fully cognisant of these irreconcilable facts, both Lieutenant General KM Cariappa and Major General KS Thimayya were of the unanimous opinion that "....the fall of Leh will be a strategic blow to India. It has to be saved at all cost." So for a start, Brigadier LP Sen, Commander 161 Infantry Brigade, was directed that the vacuum of military presence in Leh had to be restored. Brigadier Sen happened to be in the 2 Dogra Officers Mess and thinking aloud his options with Lieutenant Colonel GG Bewoor (another, future COAS!), the latter stated that his battalion had close to 80 soldiers belonging to Lahaul and Spiti valleys, who may be best suited to take up this gauntlet.
The dice was cast and Major Prithi Chand and his cousin Captain Kushal Chand, both from Patseo village in the shadow of Baralacha Pass (16,700 ft) on the boundary of Lahaul and Ladakh districts were asked about the feasibility of reaching Leh. Their prompt response was in the affirmative. With this reassurance, from among the volunteers, 40 medically fit soldiers, two specially trained medical orderlies, three wireless operators, Subedar Bhim Chand (maternal uncle of the two cousins!) together made up one slightly bloated platoon, since memorialised as "The Lehdett".
Besides his personal weapon and a bandolier of 50 bullets, each soldier was given one extra rifle for a later, specific role in Ladakh. The party were provisioned with two months rations (to be carried on locally procured ponies) in the hope that by then replenishments to Leh through airdrops would materialise. So on February 16, 1948, the Lehdett set out in unit vehicles to Sonamarg, saddled loads astride ponies on February 17 and marched for Baltal on the long haul to Leh. As the pony owners sensed the ultimate destination, the entire lot vanished by night.
On February 18, while Prithi Chand confabulated with Colonel Bewoor over wireless, Kushal Chand with 10 soldiers went up the right spur overlooking Zoji la saddle. Spending better part of the day, they confirmed heavy deposit of snow not only on the pass but also on the two shoulders of Zoji la. Even more worrisome was the frequency of avalanches from mid-morning till mid-evening. Prithi Chand in the meanwhile was ordered to abandon all provisions, including extra rifles, and proceed with personal weapons and on "survival" rations up to Kargil where replenishments from the J&K State Forces supply dump would be made available.
With the hindsight of having experienced winters in Lahaul and Spiti, the Lehdett collectively decided that Zoji la would be safest to cross at the dead of night and using empty cooking vessels, they would create drumbeat vibrations continuously over the next three days to induce snow avalanches, paving safer passage across the pass. Accordingly, on the night of February 24, Zoji la was successfully crossed despite a blizzard, without any loss of life or snow injury. This was a Herculean achievement as they had none of the specialised snow clothing and sophisticated accessories, whatsoever and in Brigadier Sen's words "It called for unbound courage, determination and stamina..."! They rested at Kargil on March 2, possibly engaged ponies and porters, collected 200 rifles from the J&K Forces armoury, food provisions and set out for Leh, covering the 249 km to a rousing welcome from the locals by sundown on March 8, 1948!
These doughty soldiers knew that their mission was far from complete. As the first step, they amalgamated the 25 soldiers left behind by Sher Jung Thapa, persuaded another 200 able-bodied Leh residents to undergo training in the use of rifles and by mid-April, created what is today the Ladakh & Nubra Scouts. Simultaneously, the two officers launched a brilliant initiative to enthuse the locals to clear the broad, level patch of ground between Leh town and Indus river of all boulders and by end April, 1948, Major Prithi Chand proudly reported to Major General KS Thimayya, DSO over wireless that Leh was ready to receive replenishments by airdrops. Little did he know that the General would, in fact, land at that very spot in a Dakota, flown by Air Commodore Mehar Singh, DSO on May 24, 1948, creating an enviable landmark in the World of Aviation history!
Fortuitously, Pakistan remained obsessed with the capture of Skardu but Lieutenant Colonel Thapa rebuffed all attempts. So in May 1948, the enemy diverted a sizeable force to capture Kargil and the Zoji la ridge line, thus bolting all doors for Indian reinforcements to Ladakh. Aware of the enemy's presence at Kargil, Prithi Chand despatched Kushal Chand with few soldiers to defend the only bridge over Indus at Khaltse, the gateway to Leh. The enemy showed up on May 22, and Kushal Chand finding himself hopelessly outnumbered, set ablaze the centuries-old wooden bridge and gained valuable time.
Beginning on May 28 for a start, Air Commodore Mehar Singh led four Dakota sorties to fly in one company of 2/4 GR together with supporting weapons, adequate ammunition and logistical wherewithal, the first wholesome military advantage accruing from Lehdett's three-month-long singular stand in Ladakh.
Meanwhile, Subedar Bhim Chand, with 80 armed militia soldiers checkmated and inflicted heavy casualties on enemy intruders (estimated 900) in Shyok and Nubra valleys, in two nail biting actions. He was awarded the much-merited Vir Chakra and Bar while Prithi Chand & Kushal Chand were decorated with the Maha Vir Chakra. During the time Kushal Chand was engaged in dousing planks of the bridge with kerosene and setting it afire, Naik Bir Singh kept the enemy at bay, got fatally wounded and was awarded Vir Chakra (Posthumous). Maybe the moment of honour best belonged to Sepoy Togbe, the first Leh Militia volunteers who showed boundless courage in the Shyok valley encounters and emerge with Vir Chakra!
Major General KS Thimayya, GOC Sri Div paid high tribute to "The Lehdett, One Force Too Many" and placed on record that "Their deeds and acts of gallantry against very superior forces in the Ladakh valley will go down in the annals of the Indian Army as one of the greatest feats." Let us stand up in salute to the Lehdett's spirit of devotion to duty and the unflagging vision of field commanders.