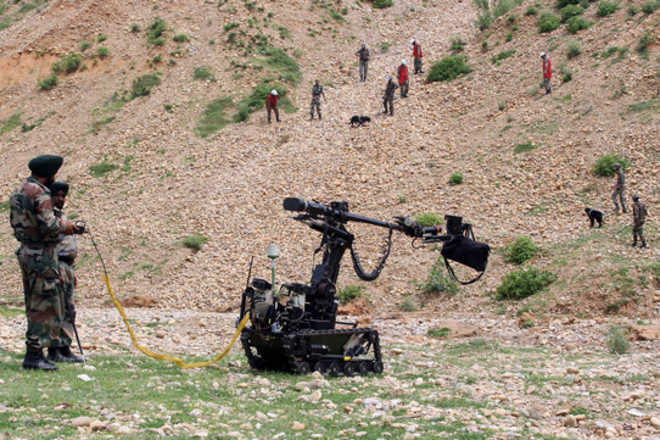 Ravi Krishnan Khajuria
Tribune News Service
Jammu, March 5
The Army's training in warfare, especially in artillery fire — a winning factor in conventional wars — has been severely affected in the insurgency-hit J&K, which shares its borders with China and Pakistan.
After the previous NC-Congress coalition government refused to renew lease deeds of Kalith and Tosa Maidan firing ranges in June and October last year, respectively, the Army's training in warfare has been adversely hit, said top defence sources.
As a last resort, the Army since early January this year has started sending its troops along with artillery guns and other weapons and ammunition from J&K to firing ranges in Rajasthan and Madhya Pradesh, they added.
It may be stated here that the Army has deployed several artillery units in counter-insurgency operations across J&K.
"In a last resort, we are now sending artillery regiments with artillery guns and ammunition to Mahajan and Pokhran field firing ranges in Rajasthan and Bobina field firing range in Madhya Pradesh for perfecting artillery fire, tank fire and other high calibre weapons," said a defence source. One artillery regiment has three batteries and one battery comprises 132 men and has six artillery guns.
Pulling out one artillery regiment (396 men) from counter-insurgency operations in the state for undergoing training in Rajasthan and Madhya Pradesh along with their weapons and ammunition takes a mammoth effort.
It takes over a month for the regiment to complete training and come back. However, it creates a vacuum in the security grid from where the regiment is pulled out, the sources said.
The process of booking trains, ferrying artillery regiment with men, guns and ammunition is not only tedious but also weakens our security grid in the militancy-hit J&K where Pakistan and China keep engineering activities inimical to India, they added.
Keeping in mind the security scenario, the Army has been sending its troops for training in a phased manner.
On August 14 last year, the then Brigade Commander of 52 Brigade, Brigadier RS Bathuria, had regretted the delay in renewing the lease. To date, the lease has not been renewed. All units under 16 Corps (White Knight Corps) used to undergo training at Kalith while units under 15 Corps (Chinar Corps) used to undergo training at Tosa Maidan. Tosa Maidan in Budgam and Kalith range in Akhnoor were used by the Army since 1965.