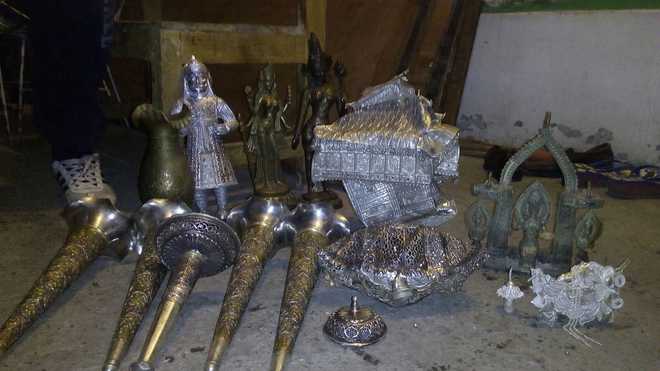 Shimla, November 11
The artefacts stolen last month from Chief Minister Virbhadra Singh's ancestral palace in Sarahan in Shimla district have been recovered, the police said on Wednesday.
Five suspects were rounded up early Wednesday and the stolen artefacts recovered, Additional Director General of Police Sanjay Kundu told IANS.
He said more articles have been recovered as compared to what were reported stolen by the palace staff.
The Shanti Kunj palace of the Chief Minister at Sarahan, 170 km from here, was burgled on October 23.
The stolen articles include one silver table lamp of 1 kg, four silver flower pots each weighing about 250 gm and one silver temple, the police said.
The palace is close to the famous Bhimakali Temple. — IANS
Top News
Opposition members say they have not received copies of Ethi...
Lok Sabha is adjourned till 2 pm immediately after the repor...
The observers will visit the states and give inputs to BJP p...
The swearing-in ceremony is held at the Raj Bhavan where Miz...
The rate increase cycle was paused in April after six consec...