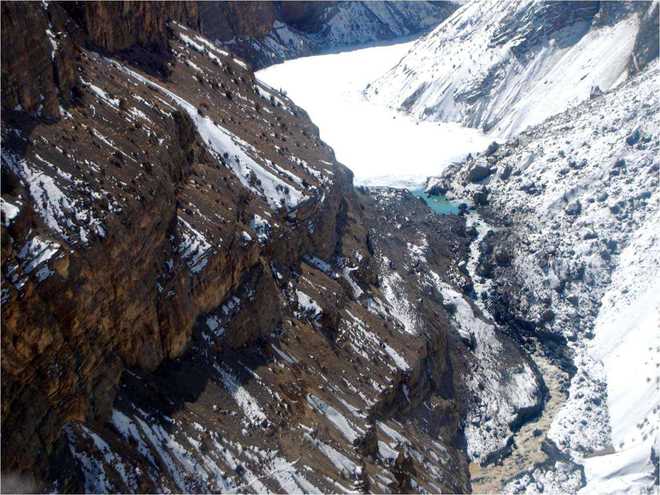 Tribune News Service
Jammu, May 7
A flash flood triggered on Thursday morning by the bursting of a lake formed on the Phuktal river in Kargil caused damage to bridges and buildings, including a school, creating panic in villages downstream. No loss of life was reported immediately.
The sudden release of water dammed up in the lake — created by the blocking of the river by a landslide — in the Padam area affected around 40 villages in Zanskar sub-division of Kargil district.
The district administration has sounded an alert in the area and the villagers have been asked to move to safer places in view of the possibility of heavy flow of water from the lake. The authorities are conducting an aerial survey of the area.
Kargil Deputy Commissioner Hassan Khan told The Tribune: "The water level is increasing with every passing hour and the administration has asked the people living along the river to move to higher places."
On April 1, a joint task force of the Army, Air Force and the National Disaster Management Authority (NDMA) had said that they had created a 75-meter-long channel through the landslide blockade to drain out water from the artificial lake in a controlled manner.
On December 31 last year, a massive landslide, 500-600 meters in length, had blocked the Phuktal river, creating the artificial lake.
The landslide caused complete blockage of the river, resulting in the accumulation of more than 30 million cubic meters of water and forming a 15-km long lake upstream.
Following the intervention by Governor NN Vohra last month, who urged the NDMA to constitute a Multi-Disciplinary Expert Group to evolve an action plan for dealing with the situation, a committee was constituted by the NDMA, which visited the site.
Congress leader and former minister Nawang Rigzin Jora, however, had criticised the NDMA for doing "shoddy work" at the site, saying there was a "huge impending disaster" awaiting Ladakh this summer.
Top News