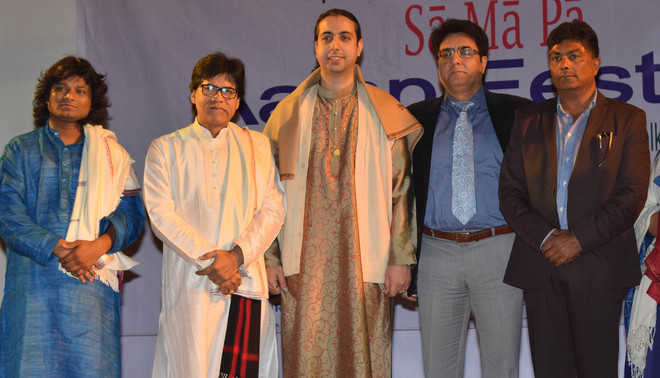 Tribune News Service
Jammu, February 18
The Jammu and Kashmir Sports Council, Jammu, today organised a musical event in the honour of sportspersons of Jammu.
Chief Vigilance Commissioner (CVC) Kuldeep Khoda was chief guest. Additional Director General of Police (ADGP), Armed, SM Sahai was the guest of the honour.
The initiative was taken by vice-chairman of the Sports Council Jammu Ranjeet Kalra, who is also member of the Board of Control for Cricket in India (BCCI) for sportsperson with an aim to provide them entertainment.
"Nothing before such a kind of event has been organised especially for sportspersons," Kalra said.
Noted santoor player Pandit Abhay Sopori along with his team presented the event, which mesmerised the audience. Sportspersons got enthralled by the talent of Sopori, who is the son of legendary artiste Pandit Bhajan Sopori.
Talking to The Tribune, Abhay Sopori said he feels proud to do something for the sportspersons who always play for the state and country. "I feel honoured to get a chance to perform for these sportspersons who put their all out efforts to make the country proud," Sopori said.
A local artiste, Raghini Renu, also mesmerised the audience with Sufi songs and got the applause from audience over "Dama dam mast qalander" song.
Hundreds of sportspersons from Jammu were present on the occasion and they applauded the efforts of Ranjeet Kalra.
Top Stories