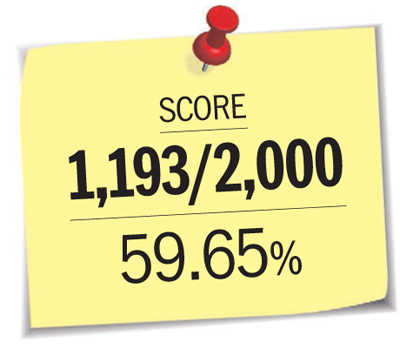 Akash Ghai
Tribune News Service
Mohali, May 4
Mohali town, which has been spending Rs 3.73 lakh daily on cleanliness, still remains way behind at number 121 in the Swachh Sarvekshan-2017. The saving grace for the town is that it has been declared the cleanest city of Punjab.
Evidently unhappy over the town's ranking in the national competition, the Mohali Municipal Corporation (MMC) authorities, including Mayor Kulwant Singh and Municipal Commissioner Rajesh Dhiman, said they were determined to improve the ranking by working on the grey areas.
Mohali got an overall score of 1,193. Of this, it got 478 in the self-declaration category, 337 in on-site observation and 378 in citizen feedback. "Lack of a dumping yard and failure in making the town total open defecation-free were the main reasons behind our poor result," said Kulwant Singh.
"There is need to work on these grey areas and we are determined to do that," said the Mayor.
Talking to Chandigarh Tribune, Dhiman said the target of making the town total open defecation-free had almost been achieved. He said work on constructing a garbage processing plant at Samgholi village at Dera Bassi would also take off soon.
However, both of them expressed happiness over Mohali being declared Punjab's "numero uno in cleanliness".
Mechanised sweeping
Mohali was the first town in Punjab where the then Akali government had started mechanised sweeping on August 6, 2015, with an announcement that it (Mohali) will be the "cleanest town" of the country within a month. The services of a private company were hired for a whopping Rs 13.51 crore per annum then. The contract between the company and the government still continues despite the system having invited criticism several times from different corners.
---
Punjab's numero uno
Though Mohali remains at 121, I am happy that our town is Punjab's numero uno. We will review shortcomings and work on those to be in top bracket. — Balbir Singh Sidhu, MLA
---
Lagging far behind
We lag far behind for two reasons only. We will plug the loopholes and our ranking will improve in next results. — Kulwant Singh, Mayor
---
Mohali to be ODF soon
Mohali will be total open defecation-free within two months. It will have its garbage processing plant at Samgholi village in Dera Bassi soon. These two reasons had their ill-effect on our ranking. — Rajesh Dhiman, MC Commissioner
---
Need to do a lot
It's a good news that we are number one in cleanliness in Punjab, but our national ranking leaves residents disappointed. There is need to do a lot for improvement. — TPS Sidhu, Akali leader
---
It's time to review
There is no need to elate for remaining at top in Punjab. We are spending on cleanliness almost equal to UT (area wise). It's time to review. — Kuljit Bedi, Cong MC councillor
Top News
Odisha government has issued helpline 06782-262286. The rail...
At least 50 people died and 350 were injured in a three-way ...
WFI chief demanded sexual favours in lieu of supplements and...
Said agitation will be intensified by holding panchayats acr...
Former British PM Winston Churchill and South African Presid...