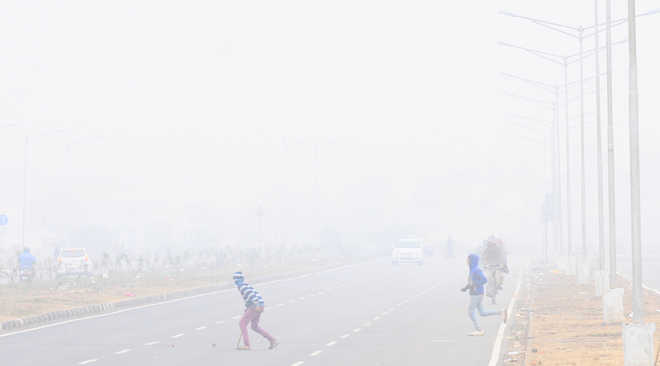 Tribune News Service
Chandigarh, January 11
As foggy conditions continue to prevail, the city turned out to be colder than Srinagar on Sunday. The maximum temperature was recorded at 9.9°C, the lowest in January so far this year.
The Met Department revealed that Srinagar recorded a maximum temperature of 11.5°C. The maximum temperature in the city today was 11 notches below normal, while minimum was 6.8°C, two notches above normal.
Dense fog has severely hampered air, rail and road traffic. Eight flights operated on Sunday while seven were cancelled due to poor visibility. Met records revealed that visibility was less than 150 metres around 8:30 am in the city.
Even long route trains were delayed by half an hour from their scheduled time.
As per the Met reports, the maximum temperature in Shimla and Dharamsala were 18°C and 14.2°C, respectively. Met Department Director Surinder Pal Singh said, "Foggy weather will improve and it will be a sunny day on Monday."
The maximum temperature will be 16°C and minimum 6°C.
Top News
Gory details of crime emerge, Delhi court takes cognisance o...
Lt General Upendra Dwivedi said Northern Command is in a hig...
Earlier, on January 13, the cut-off date was extended from M...
Rahul Gandhi was speaking for the first time in the House af...
Union minister hits back after Rahul Gandhi's anti-Adani and...