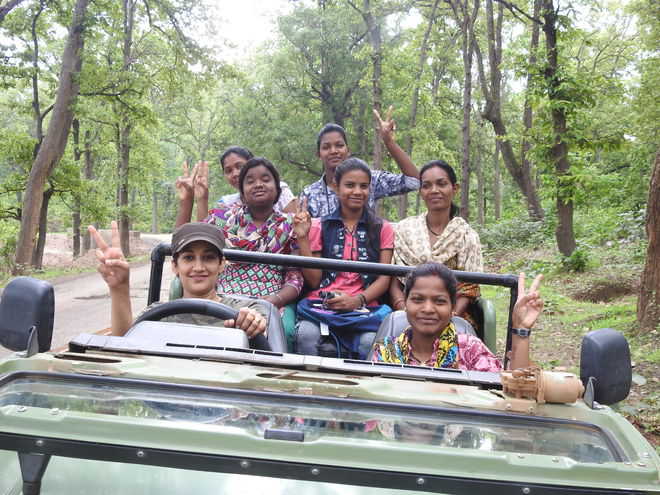 Preet Onkar Singh
A fervent desire to be in the wild combined with sheer grit and hard work has seen Ratna Singh break the stereotype of women being restricted to research and hospitality side of wildlife. She is the country's first professionally trained woman wildlife naturalist who also coaches wildlife guides, especially tribal women, in an endeavour to empower them.
Ratna's choice of profession bears a strong connect with her roots. She hails from village Khairaha, located on the outskirts of Bandhavgarh Tiger Reserve in Madhya Pradesh. "I was just five years old when I went to a boarding school and my father used to drive me back to school after the vacations for hours together through the dense forest. The rural wilderness always reminded me of home. Being an outdoor person, the job of a naturalist excited me, so I went for the opportunity to train and join the Taj Safari-Kanha National Park in 2006."
Making a foray into a physically demanding profession that earlier had a miniscule presence, Ratna made sure she did not give anyone a chance to raise eyebrows at her work, which involved guiding groups in sighting wildlife, manouvering 4x4 vehicles on dangerous steep tracks and playing a good host. At present, 41-year-old Ratna has taken the mantle of a trainer and finds it very satisfying.
"In 2011, I quit my job and started working with people who live on the outskirts of protected areas as they need to start seeing the jungle as a good source of income rather than focusing only on its remoteness," tells Ratna. She independently undertakes a 15-day programme every year for tribal women and imparts them training on basic grooming, personal hygiene, wilderness and hospitality etiquettes.
Ratna feels she owes to the conservation of wildlife and ecology of Madhya Pradesh and has been contributing by offering sustainable livelihood to the people dwelling in close vicinity of the forests.
"The most satisfying part of my job is to see women run canteens, become guides and get absorbed locally in wildlife tourism," avers Ratna, who is now looking forward to training guides in the South Asia rainforest between Myanmar and Thailand.
Apart from that the feisty woman keeps busy by being engaged with various state forest departments, national parks and private safari companies to train guides. Talking about her experience of Chitwan National Park in Nepal, Ratna recalls its uniqueness. "Rustling of the elephant grass would scare us as we waded our way through the rivers to spot tigers and bears; it was so exciting!" she says.
The National Parks are becoming pretty organised and well oiled, says Ratna, while adding that their guiding standards are getting better. Kanha is one of the best managed while Pench National Park in Nagpur is where tourism has mushroomed in a big way. However, she rues that along with it came pollution and unregulated tourism. Good to note, Ratna says, is that now people of all age groups want to have a brush with the wilderness and want to join her on small expeditions.
She says there has been a surge in the number of tourists wanting to explore wildlife destinations. "People are no more conventional tourists. There has been a shift and tourists are ready to shun opulence and indulgence for some real-time adrenaline rush. They want to face discomfort and share their experiences with others."
People are waking up to conserve their environs too. "In my capacity as a naturalist, I do witness some changes in the environment, but there is a tremendous amount of awareness towards the environment among the youth. The general awareness in big cities is more than small towns but it is percolating down. There is no denying that those who can afford are making a transition towards environmentally safer options while others are still finding it hard to adapt," says Ratna.
This December, a snow leopard expedition is on the cards for her. She says she will get to scale Rumbak and Hanle regions of Ladakh where temperature goes down to minus 25 degree Celsius. "It is a time when mountain goats come down and chances of spotting snow leopards are high."