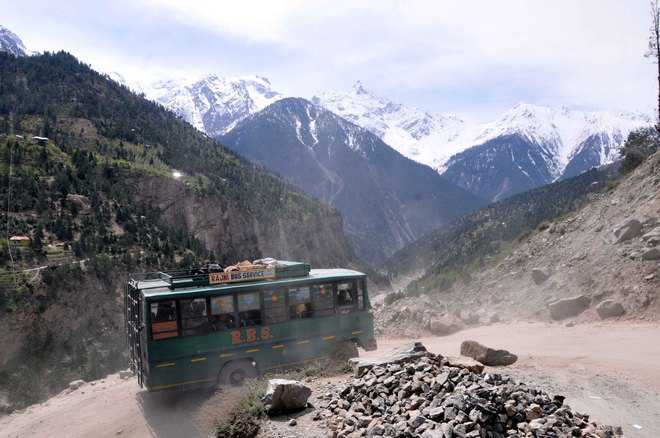 Bhanu P Lohumi
Tribune News Service
Shimla, September 11
Human errors like negligent and drunken driving, overspeeding and overtaking notwithstanding bad condition of roads and vehicles, violation in constructions along the roadside and absence of reflectors are also responsible for accidents to a great extent, said president, Institute of Road Traffic Education, and Dr Rohit Baluja, who is also the Director of College of Traffic management, Faridabad.
Talking to The Tribune, Baluja who was here for three-day capacity building programme on traffic management for Himachal Pradesh police, said accidents on national highways and state highways accounts for 34 per cent and 19 per cent, respectively, of the total road accidents in the state.
Citing example of Bajroli Pul accident near Theog in May this year in which 22 persons were killed, he said the study conducted by the institute in the instant case revealed that the bus did not meet the fitness parameters, width of the road was only seven meters, the carriageway was four meters and a sharp bend with potholes was spotted making driving hazardous.
Suggesting that the condition of the roads should be improved and guard grills be erected, Dr Baluja that these steps should be taken immediately to avoid such accident in future.
Quoting another example of the Aut tunnel in Mandi district, where eight accidents took place during 2015-16, he said it was observed that there was no reflective marking, lights were dim, there was over speeding while overtaking and high beam dazzling lights of vehicles were the factors mainly responsible for accidents. "There is no second chance for commuters in a hilly state like Himachal and as many as 1,086 persons lost their lives in road accidents in the state in 2015.
Stating that the teams of the institute also observed that 90 per cent of the signages were not as per the standards and vehicles are intercepted at curves for checking, etc. He suggested suitable amendments in Himachal Motor Vehicle Act to give more teethe to police.
Himachal DGP Sanjay Kumar said the silver lining is that in spite of significant increase in number of vehicles plying on roads, increase in road users and length of roads, the average accident rate has not gone up.
In most of the cases, drivers are blamed and the FIR is registered against them on the basis of account given by the eye-witness and the injured who put the blame on driver but in the process of investigation, other reasons like condition of roads and vehicles, etc, emerge, he said.
Top News
Odisha government has issued helpline 06782-262286. The rail...
At least 50 people died and 350 were injured in a three-way ...
12837 Howrah-Puri Superfast Express, 12863 Howrah-Bengaluru ...
WFI chief demanded sexual favours in lieu of supplements and...
Said agitation will be intensified by holding panchayats acr...