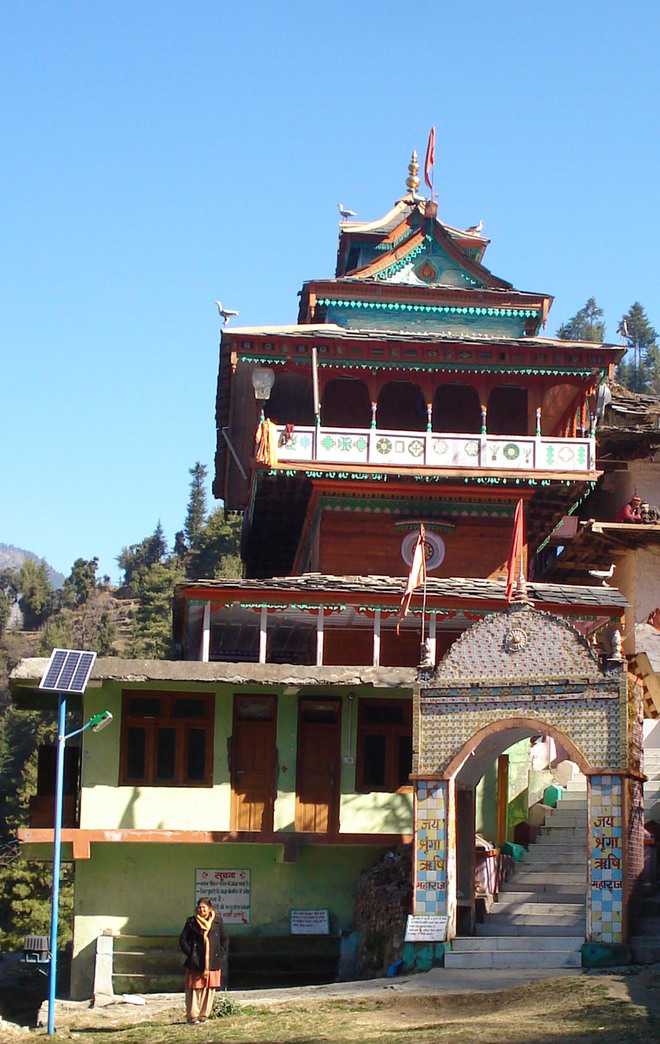 Shriniwas Joshi
I did not cross the big tunnel between Mandi and Kullu and took the road going on the right side of the tunnel to go to Banjar. The first big locality by the side of the road was Larji and then about 10 km away was Banjar town.
Dr Vidya Chandra Thakur, etymologist, says that its name Banjar is the corrupted name of barren (banjar). Earlier, nothing grew here and people used to call it barren land. About 10 km from here is a road that goes to the abode of the chief deity of the Banjar valley, the temple of Shringa Rishi. On way is a gate that reads "Shri Shringa Rishiji Maharaj: Baghi Mandir jaane ke liye raastaa." I got down from the car and footed the way right up to the temple, a steep of about one-and-a-half kilometres. The town of Banjar was spread down below (see photo) and there were some good-looking houses by the side of the pathway that I was treading. On reaching the temple, I found that there was a kutcha, circuitous road through which cars also come up to the temple.
The Shringa Rishi temple (see photo) is situated at Baghi village. As it is the ruling deity of the Banjaar valley, I saw people coming to the temple to make offerings.
It was disappointing for them as it was for us because the temple on that day was closed for certain rituals. Our plea to open it for a few minutes as we had come from Shimla fell on deaf ears. Shringa or Shringi is also called Rishyashringa in Sanskrit.
In both Hindu and Buddhist mythology, Rishyashringa was a boy born with the horns of a deer. His father was Vibhaandak Rishi of Kashyap lineage but his mother was a celestial danseuse Urvashi who had seduced Vibhaandak under orders of Indra, the king of Gods. Indra got apprehensive and felt that Vibhaandak might be more powerful than him because he was undergoing a sacred but tough penance.
He sent Urvashi to block the progress of Vibhaandak in the pious pursuit. She was successful in charming the Rishi and seduced him. Urvashi, as a result of this move, gave birth to a child and returned to the heavens after completing the task given to her, leaving the new-born child on the lap of the father. The father of Rishyashringa developed extreme hatred towards women folk because of this step taken by Urvashi. He decided to raise his child in a forest, isolated from society.
Rishyashringa did not see girls while he was growing but was endowed with certain miraculous powers. Was Baghi the solitary place where Rishyashringa grew? No. His early upbringing is linked to highland location in the central mid hill of Nepal, now popularly known as Resunga falling in the Lumbini zone. Why is Baghi temple then? The priest of the temple was not present there on the day of our visit but his adult son Hari, who also does the "panditaayi", was there and he told me that Shringa Rishi had done thousands of japa of Goddess Saraswati here.
Once Rishi Jamadagni went to Kailash and while returning, he brought a basket made of bamboo, called Kardu. He put 18 idols of deities in Kardu. Rishi Shringi was also one of those.
Shringi Rishi is also associated with 'Putrakameshti Yagna' performed at Ayodhya in order to give progeny, including Lord Ram, to King Dashrath. It is also said that Rishyashringa went to Anga (Bihar) to save the area from a horrid drought. He made use of his miraculous powers and it rained there. The king Romapada of Anga was so happy that he offered the hand of his daughter Shanta in marriage to him. Shanta, an offspring of Dashratha actually, lived with childless Romapada as his daughter.
Pandit Hari told me that Shringa Rishi was the one who gave curse to Parikshit that he would die within seven days due to a serpent's bite. But, I believe, the two Shringi Rishis are different. The one who had cursed Parikshit was the son of Shameek and not Vibhaandak.
TAILPIECE
"Explain the Holy Scriptures and engrave them in the heart of youth, otherwise the gates of hell will open for them." -Martin Luther. — The writer is a retired bureaucrat
Top News
Voting for final phase of Gujarat polls ends, counting of vo...
'You (government) are only filing FIRs, but according to you...
Barring a few incidents of violence, polling for the final p...
BJP ruling civic bodies since 2007, won 181 of total 270 mun...
The Delhi govt opposes the Centre's plea saying it will only...