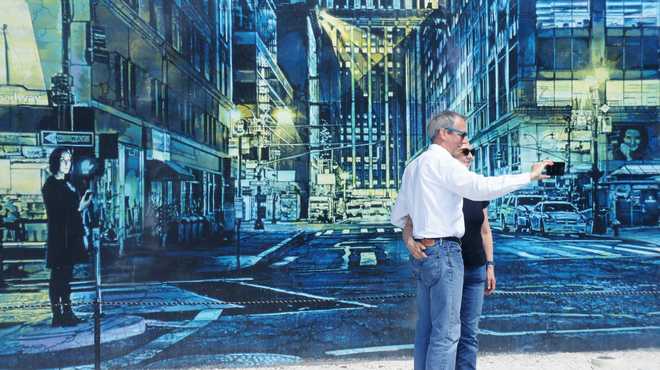 Sujoy Dhar
Back in the 1980s till the 1990s, Wynwood in Miami was synonymous with drugs, crime and prostitution. Decades later, this once-forlorn patch of Miami, which was primarily known as a working class district inhibited by Puerto Ricans, is a street art bombed neighbourhood.
Graffiti spots across the world are countless now. We have the remains of the Berlin Wall in its iconic Eastside gallery and several other zones across the western world. But as you walk into the heart of Wynwood in Miami, you will soon realise what it takes to be called the most instagrammable spot of America.
Here every nook and cranny, every wall, every building, garage or warehouse breathes art. Take countless selfies against the walls which are but a riot of colour and strong statements. With the art scene in Wynwood booming, turning it into a place of largest collection of street mural arts in the world, you have coffee shops and craft breweries and other food joints mushrooming to complete the scene.
The Wynwood Walls began in 2009 by two collaborating visionaries, Tony Goldman of Goldman Properties and Jeffrey Deitch, art dealer and curator. Goldman Properties has been the driving force behind the transformations of Wynwood. This project is one of great pride for the company as it exhibits the power of art to ignite a neighbourhood.
Tony Goldman was looking for something big to transform the warehouse district of Wynwood and he chose its large stock of warehouse buildings, all with no windows, to turn these into giant canvases. Starting with the 25th–26th Street complex of six separate buildings, his goal was to create a centre where people could gravitate to and explore.
The Wynwood Walls became a major art statement with Tony's commitment to graffiti and street art, a genre that he believed was underappreciated and not respected historically. Since 2010, the Wynwood Walls have migrated to include murals outside the park in the surrounding neighbourhood. Termed Outside the Walls, these epic murals cover sides of buildings and sometimes the entire building, creating breathtaking surprises down each block of the neighbourhood.
Wynwood has transformed Miami's urban landscape into the new graffiti Mecca of the world. Here you can explore the world's greatest outdoor art museum and find out where some of the best murals are hiding. Learn about the artists: where they're from, what they do and how they do it by someone who is passionate and experienced in graffiti's ongoing global movement.
This someone for you can be Ryan the Wheelbarrow, who moved to Miami from Arizona back in 2003, and later with another artist formed Miami's Best Graffiti Guide, the only artist owned and operated tour agency here. It became the official guide for the Wynwood Walls and voted Best of Miami for Best Tour of Wynwood.
Unlike other tours in Wynwood, this neighbourhood fixture is all-year-long, passionately lead by a local artist with a working knowledge of street art and Miami's vibrant graffiti history.
"The oldest mural here dates back to 2005. We are fighting for the walls since and there is nothing sacred here, you may get praise or get punched in the face. They call it gentrification — the process of conforming to an upper or middle-class lifestyle. I call it 'graffitication'. You never know is going to happen," says Ryan, who himself chose a vandalised wall and, then, turned it into a canvas after proposing the property owner. "Here we have turned our passion into a day job," says Ryan, like many other Wynwood artists. Wynwood has more than 70 exhibition spaces and galleries, including warehouses and fine art galleries.
Your Miami visit is incomplete if you do not walk the streets of Wynwood, arguably the world's biggest outdoor exposition of street art.
Top News
Says the gurdwara is open to people from all communities and...
EAM advocates contacts between two governments to resolve is...
PM Modi congratulates Mohamed Muizzu
Resentment among Punjab Congress leaders over arrest of part...
The package drops aid to Ukraine but increases federal disas...