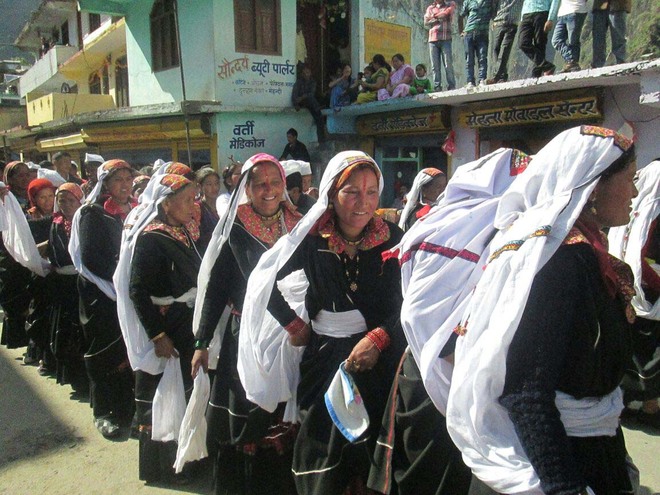 BD Kasniyal
Pithoragarh, May 5
Members of the ancient Barpatia tribe of Munsiyari subdivision in Pithoragarh district at the Barpatia conference at Baram today demanded infrastructure and other basic amenities in their villages situated in the Johar valley. Chief Minister Harish Rawat was the chief guest of the conference.
The Barpatia tribe resides in Namik, Tomik, Ringu, Chulkot, Bunthi, Barniagaon, Josha, Imla, Papri, Quiri Jimia, Harkot and Kotal villages of Munsiyari subdivision. "The Barpatia tribe, which is residing in the Johar valley even much before the tribal Shaukas came from Tibet, was marginalised by the influence of the Shauka tribe which snatched the trade with Tibet from it, rendering its members mere land tillers and backward," said Umesh Ringwal, president of the Barpatia Samiti, Madkot.
The Barpatia community having a strength of 6,000 and residing in the Johar region of Munsiyari subdivision has been described as the Naga tribe. These Nagas, who were Khasas by origin, were later dominated by tribals who arrived from Tibet and overpowered them.
The community members gave a memorandum to the Chief Minister demanding roads to their villages. "We want a road network to our all 10 villages as only Josha and Imla villages inhabited by the Barpatia community have roads at present," said Ringwal.
He added though the Barpatia community was given the Scheduled Tribe status and reservation after 1967, its members could not take much benefit and had remained poor and uneducated. "We have requested the Chief Minister to provide educational facilities to our youths in the villages so that they could get the benefit of reservation in government jobs like their counterparts from the Shauka tribe.We have decided to rise from backwardness and demand our rights as original settlers of the Munsiyari region," said Ringwal.