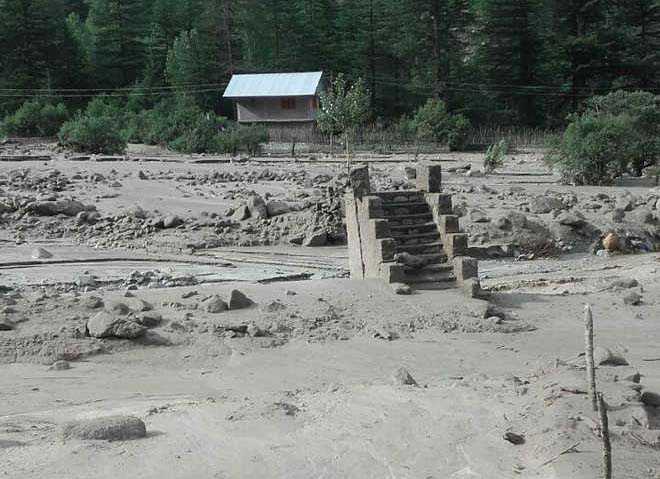 Kuldeep Chauhan
Tribune News Service
Shimla, July 20
The flood-hit tribals of Batseri village in the Sangla valley are spending sleepless night.
They are facing a fresh threat as the Baspa has shifted its course by 60 metre to the left bank, cutting the fragile sandy soil of apple orchards that in turn is threatening the village.
Kinnaur MLA and Deputy Speaker Jagat Singh Negi, who met the flood-hit villagers yesterday, had promised that the PWD would depute three machines to divert the river course to the right bank to save the village from threat. However, only one JCB machine could be deployed which could not serve the purpose, resented the villagers.
Though water and electricity have been restored to Batseri village that houses about 150 tribals families spreading across both sides of the Baspa, Chitkul and Rakcham villages have remained cut off from the Sangla since Sunday night.
The flash flood in Kharogla nullah, a right bank tributary of the Baspa that joins the Baspa about three km from Rakcham village, struck last Sunday. Apple orchards on more than 350 bighas of land have been washed away, destroying the source of livelihood of villagers, said Balbir Negi, a resident of Batseri.
The flood-hit tribals led by panchayat pradhan Seema Negi apprised Deputy Speaker of the damage to the apple orchards and 'dogris' located on the left and right banks of the river. More than 20 'dogris' have been washed away in the flood and losses run over Rs 50 crore, they said.
Jagat Negi, who took stock of the flood damage, said "We are deputing machines to divert the river towards the right bank. A new Bailey bridge will be laid and road to Chitkul will be restored in a couple of days".