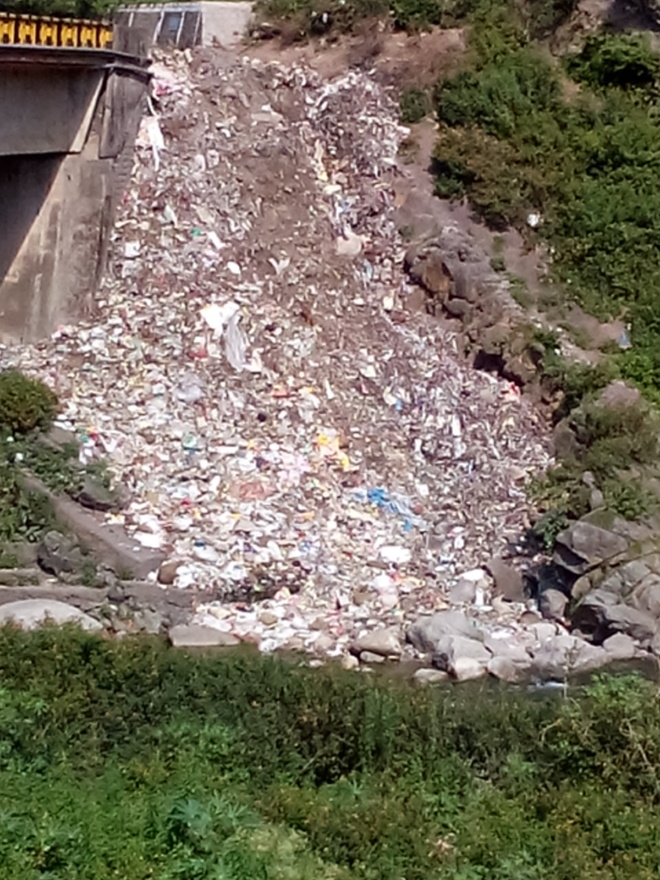 Ravinder Sood
Palampur, June 5
The three major tributaries of the Beas — Binwa, Awa and Neugal— originating from Dhauladhar hills, are fast turning into a garbage dumping ground as the entire garbage of Palampur, Baijnath and Paprola towns is being disposed of into these rivers.
In the absence of the garbage disposal facility for people residing on the banks of these rivers between Palampur and Baijnath, the entire waste is being dumped into these rivers daily.
Besides, the sewerage of these areas is also being dumped into these rivers at many points.
Earlier, water of the rivulets was crystal clear and was used for drinking by people residing in the lower areas of Dhauladhar hills. But now, it has become highly polluted and is not even fit for washing of clothes or feeding animals. The situation is worse in Baijnath and Paprola, where people have been openly using the water sources as a dustbin.
Enquiries made by The Tribune revealed that tonnes of garbage, including polythene, animal carcasses, empty gunny bags and other waste material, is thrown into these rivers as there was none to check the practice.
The Baijnath SDM had made efforts to check the dumping of garbage inthe Binwa river a few months ago and also sought the help of local NGOs but in the absence of cooperation of panchayats and local residents, he could not succeed.
There is no law to deal with the menace and the state agencies have failed to initiate action against the defaulters. At present, no department of the state government is ready to deal with the situation.
The State Pollution Control Board is unconcerned with the situation and till date has failed to serve even a single notice on the panchayats, sabzi mandis and shop keepers of Baijnath and Paprola who dump their waste in the rivers.
Top News
Teams conducting raids to arrest the BJP leader
Jaishankar meets UN Secretary-General Antonio Guterres and P...
Canada is home to about 770,000 Sikhs - the highest populati...
Canada has alleged that Indian authorities were behind Nijja...