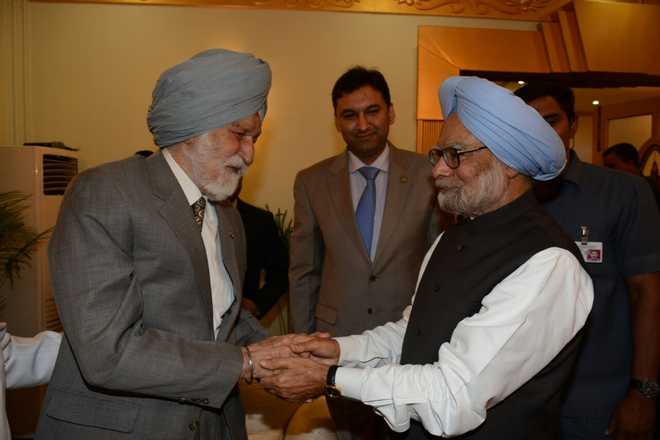 Ajay Banerjee
Tribune News Service
New Delhi, April 14
In a touching gesture, the Indian Air Force (IAF) tonight announced that its vital air base at Panagarh in West Bengal will be named after Marshal of the Air Force Arjan Singh.
IAF Chief Air Chief Marshal Arup Raha made the announcement at a function here tonight on the eve of Arjan Singh's 97th birthday which was attended by former Prime Minister Manmohan Singh, Army Chief Dalbir Singh Suhag and several retired chiefs.
The base at Panagarh will be now be called Air Force Station Arjan Singh, IAF officials said tonight. It's a departure from the past as the IAF does not name its bases after individuals.
A squadron of the IAF's special operations planes the C-130J will be based at Panagarh and will be tasked to operate in tandem with the Army's Mountain Strike Corps. The infrastructure for basing the C-130J's is ready and will be formally inaugurated in the first week of May. Its runaway has been re-carpeted.
The choice of renaming Panagarh was zeroed in with care, The airbase at Panagarh was constructed in 1944 during Second World War by US air Force towards their China-Burma-India theatre campaign. Around the same time in eastern theatre, a young Commanding Officer of No. 1 Squadron, then Squadron Leader Arjan Singh, was leading the 'Tiger' squadron in saving Imphal Valley against the marauding Japanese forces and stalling them in Burma.
For his role in successfully leading the Squadron in combat, the Marshal was awarded the Distinguished Flying Cross (DFC) in 1944. On 15 August 1947, he achieved the unique honour of leading a fly-past of over a hundred IAF aircraft in Delhi, over the Red Fort.
The Marshal of the Air Force was the first Indian Air Chief to lead a young Indian Air Force into war. He was Chief of the Air Staff when the IAF saw action in 1965. He was hardly 44 years of age when entrusted with the responsibility of leading the IAF.