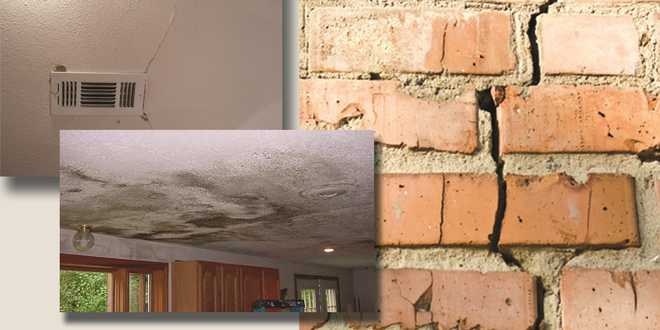 Jagvir Goyal
Though every house builder tries to take the best preventive measures during the construction yet leakage and seepage are often seen in the houses. The reasons for such occurrences are inadequate workmanship during construction, lack of knowledge of the right preventive measures, not taking proper steps for water-proofing, occurrence of cracks due to structural settlements or differential expansion of materials and lack of post-construction care.
Let's have a look at the post-construction checks to be made and the treatments to be done to stop a leakage or seepage:
Post construction checks
The following checks should be made from time to time to avoid a leakage or seepage in any part of the house:
Pre-monsoon check: Before the onset of rainy season, the house owner should get the roof of his house cleaned of all the debris, tree leaves etc. on it. Care should be taken that the dirt and dust collected on the roof is not swept into the rainwater pipes. These days, the rainwater pipes are not discharged into the open at ground level but are connected to a rain harvesting pipe network below ground by providing a concealed bend at the lower end of these pipes. The dirt swept into the rainwater pipes gets collected in this bend at lower end and blocks it. This results in blockages that lead to leakage.
In addition to clearance of roof area of all dirt, one should see that all rainwater pipes are clear of any blockages. The concrete triangle (gola) along the parapet joint should be examined against cracks and treated with cement slurry or cement mortar where necessary to avoid entry of water from the joint between slab and parapet.
Check for cracks: Examine your house closely and check if there are any visible cracks anywhere. Get these cracks repaired with crack-filling material or cement mortar grout. Take special care of the grouting of joints between the tiles or stone slabs on the roof terrace. Any cracks or gaps in joint grouting or flush pointing should be got repaired before rains. This is important as in addition to draining off the rain water, you are not to allow it to entre below the terrace topping. This water gets entrapped between the slab and the roofing material and later, surfaces on the underside of the ceiling slab.
Importance of crack treatment: A crack should be carefully examined before its treatment to determine its cause and to avoid its re-appearance. A crack may or may not be dangerous. Every crack tells its own story. The location, width and type of a crack helps in ascertaining its cause. Cracks caused by improper design, improper construction, overloading of the building, differential settlement of foundations, earthquakes, settlement of foundations affected by an outer source of water are dangerous and demand strengthening of the structure in addition to filling up of crack. Stepped, vertical and diagonal cracks are often structural cracks. Horizontal cracks are often expansion cracks and need treatment not only to avoid leakage but to save reinforcement from corrosion due to ingress of moisture through the cracks.
Crack treatment
The type of treatment depends upon the type of crack. For cracks in plaster, ready-to-use crack fillers are available in the market. These should be checked to be non-shrink and flexible type. Any cracks on top of RCC slab, RCC walls of basement or in sunken slabs should be repaired by injecting grouting with epoxy grouts or admixture modified cement grouts. Cracks on underside of RCC slab ceiling can be repaired by using PU foam injection grouts. Avoid use of white cement to fill the cracks as it shrinks and cracks with time.
For structural cracks, a structural consultant should be consulted as every crack has its own history to tell and treatment is decided accordingly to avoid its recurrence.
Post-construction modifications
Post construction modifications often leave the joint between the old and new construction prone to leakage. A house owner, fed up of leakage in the roof slab of his house had set aside a hefty sum of money to remove and re-lay the roof of his house. A careful examination of the roof revealed that he had got the masonry chimney provided over the kitchen fireplace removed and got the chimney area plugged in an improper way. Rainwater was entering some gap between the RCC slab and the flooring over it leading to leaking at many locations in his house. Treatment of the chimney area helped in stopping leakage completely and saving all his money. All post-construction modifications should, therefore, be specifically got treated with water proofing materials to seal the joints of old and new work completely.
Drilling & nail driving: Often we want to drive a nail in a wall of the house. A carpenter or an electrician arrives to fix a bracket or a switch board and drills the wall to fix fasteners. At such times, one should take care that no water supply pipe or vertical sanitary pipe or rain water pipe gets punctured due to nailing or drilling. PVC pipes, now so much under use, get punctured easily. Such punctures are difficult to repair and involve lot of work for their repair or replacement.
Waterproofing treatments: Despite taking all the precautions and water-proofing measures during construction, leakages still occur and leave the house owner frustrated. During the construction of house, we are not present there all the time to supervise and many deficiencies creep in without our knowledge and lead to leakages and seepage at some later stage. For their treatment, earlier, we were dependent on cement mortar or white cement only. These days, we should feel happier as the market is flooded with such materials that can be used to seal a drip or stop some dampness. Availability of so many products has rather left the house owner confused. Here one should know that basically, all water proofing products are based on the following four kinds of materials:
Polymers
Silicones
Epoxies
Poly-sulphides.
These materials are used to devise various sealants, putties, adhesives, crack-fillers, grouts, coatings, mortars, admixtures, plasticizers, super-plasticizers, bonding materials and so on. One should not get lost in their amazing world but should toe the correct line of action to tackle a leakage problem.
How to tackle leakage
As and when you notice a leakage or dampness, take it seriously and resolve to get it repaired immediately. Every leakage and dampness problem has its unique tell-tale signs. Best way to tackle it is to consult a reputed water proofing agency or a consultant instead of asking a shopkeeper or a mason to provide some chemical for its treatment.
The agency representative or consultant must visit the site to examine the leakage and determine its cause. He may have to carry out some investigations to reach the root cause of problem. He may not be able to give exact cost estimate for repair work at initial stage. Bear with him and believe in him as you can't afford to allow the leakage to continue. If there is an emergency like a dripping roof or a burst pipe, it should be sealed immediately as a temporary measure and then the investigations should continue. Fast setting products are available in the market to plug such leakages.
Solutions
Though the right solution to each leakage problem should be reached by toeing the line suggested above, here are some possible solutions to common leakage problems:
Leakage from underside of ceiling: If there is leakage on underside of ceiling and top of ceiling is not approachable due to someone else's flat or any other reason, stop the leakage by PU foam injection grouting from the underside. This foam is injected by using special grout injector fitted with a non-return valve. The foam spreads inside the slab and blocks the pores in it.
Rising dampness from foundations: If you notice dampness rising in the brick walls from the foundations, it can be stopped by injecting silicon injection grout in the walls at 12 inch intervals.
Entry of water from window sides: Often, a gap gets created between a window frame and wall masonry and rainwater enters the rooms through this gap. Seal such gaps by filling the UV resistant silicone sealant into the gap by using a sealant gun.
Dampness from fine cracks in external wall: Fill the cracks from outside by using ready-to-use crack filling paste. The crack paste can be applied by using a small steel plate of 2 inch x 4 inch size often used by painters to fill putty.
Leakage due to cracks in roofing: Seal any dripping leakage by using instant, ready-to-use, fast setting powder that hardens within 3 minutes. Seal the cracks by using an acrylic polymer cement mortar instead of using simple cement mortar. Now, apply 2 or 3 coats of acrylic water proofing solution with brush over the affected area to create a film.
Top News
Five-judge Constitution Bench had reserved the verdict on Se...
Next hearing soon, closely following matter and extending al...
Sonia Gandhi, Mallikarjun Kharge, Rahul, Priyanka attend the...
Flags concerns to US, Canada over Pannun's threat to Air Ind...