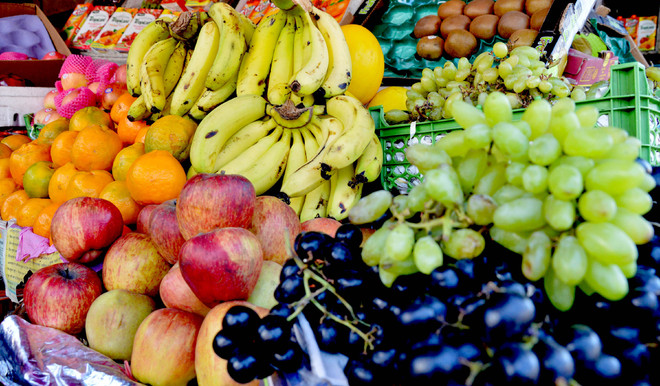 Manav Mander
Tribune News Service
Ludhiana, October 25
Artificial ripening, waxing and sweetening of fruits have become a common practice in the city that prides itself as the industrial hub of Punjab and hence fruits are no more considered the best bet for good health.
The age-old saying "An apple a day keeps the doctor away" no more holds true in today's time as the shine in apples being sold these days are due to the application of wax on these, says a city-based medical expert, adding that one should prefer buying less attractive apples.
Traders coat apples with wax to protect them from decaying. The wax on apples surface prevents it from interacting with the environment, thus delaying decay.
However, experts said traders should follow some guidelines while waxing apples which they generally ignore. "Apples can be coated with bees wax or wax obtained from vegetable oils but these guidelines are thrown to the wind by traders. These days fruits are generally coated with either petroleum wax or chemical sprays that are harmful for the digestive system," an expert said.
There are reports that fruits such as watermelon, muskmelon and papaya are artificially sweetened. It is learnt that sweeteners and colours are injected into the fruits to make them look more palatable and attractive.
There have been reports of vendors injecting red dye into watermelons to give these a bright red shade. They inject artificial sweeteners into muskmelon to make them sweet. The colours and sweeteners are toxic and may cause deadly diseases.
According to experts ethylene is used for ripening fruits such as mangoes, which is a completely safe way. But contractors in the market use cheaper methods such as calcium carbide.
Some fruits such as cheeku and bananas are harvested even before they reach the ripening stage, which do not let the nutrients to develop.
"Fruits should be thoroughly washed before eating. If the surface powdered with calcium carbide comes in contact with the mouth, it may lead to ulcers. The chemical has carcinogenic properties and should be avoided," says Dr Deepak Gupta, a city based gastroenterologist.
Top News
It is 80-year-old former 9-term MLA and a 3-term MP Kharge v...
Not daunted by my rival: Tharoor on Kharge
Stated that 'no one does such things on purpose' and added t...
There is a heated argument between MLA Sukhpal Khaira and Sp...
Ukraine immediately countered with a surprise application to...