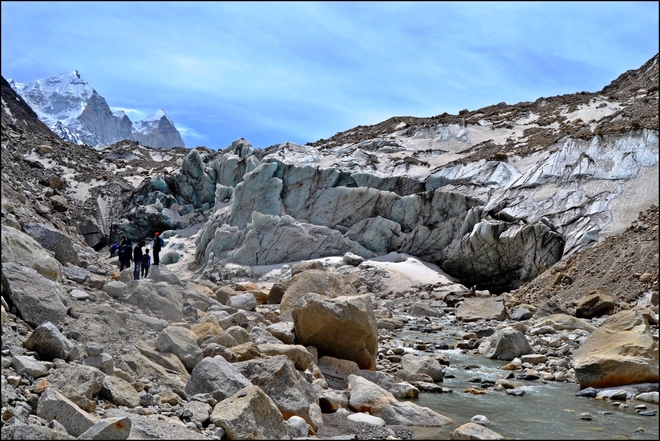 Ajay Ramola
Tribune News Service
Mussoorie, October 18
The fragile eco-system around the Gangotri glacier cluster in Uttarkashi district is feeling the effects of global warming. The frequent changes occurring in the glacier formation have been recorded by scientists from the Govind Ballabh Pant Institute of Himalayan Environment and Development at Kosi-Katarmal in Almora.
According to scientists researching on the Gangotri glacier, the water stream of the Bhagirathi that had originated from the source of the Ganga at Gaumukh has shifted 50 metres to its left and is at present flowing out of the Chaturangi glacier instead of the Gangotri glacier. The worried scientists say the situation has obtained due to additional pressure on the Gangotri glacier from the Chaturangi and Raktvarn glaciers. Heavy boulders of rock and snow have shut the snout of the river at Gaumukh.
The 28-km long and 2 to 4 km wide Gangotri is surrounded by the Kirti glacier on its right and the Chaturangi and Raktvarn glaciers on the left. Eminent scientist Dr Kirti Kumar, who is part of a team from the institute studying the glacier, says the changes were noticed in 2014.
He says in April this year, when the team reached Gaumukh, it noticed that the water stream had shifted from its original place of Gaumukh. The Gaumukh (cow''s snout) from where the water stream of the Bhagirathi normally flows is filled with boulders and the water stream is now could be seen coming 50 metre left of Gaumukh.
Dr Kirti adds scientists are studying this development in detail and will release a report in the last week of October. He says the changes in the glaciers are a normal process but they are keeping a close watch on the implications of this fresh change here. The scientists from other institutes say the changes in the glaciers are a normal process and the water stream though hidden under boulders is still coming out of Gaumukh.
Top News
The minister inaugurates Chief Judicial Magistrate court, Ma...
'I am Rahul Gandhi, not Rahul Savarkar,' he said when asked ...
Former Union Minister Ravi Shankar Prasad says stay on convi...
The plea is filed by a Kerala-based social activist
Amritpal has been on the run since March 18