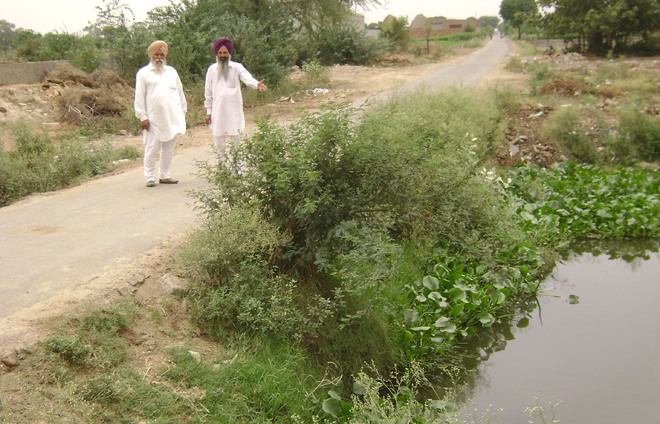 Sushil Goyal
Tribune News Service
Sangrur, June 8
Residents of Benra (near Dhuri) in Sangrur district are a disappointed lot as even after their village was adopted seven months ago by AAP MP from Sangrur Bhagwant Mann under the 'Sansad Adarsh Gram Yojna', no development work has started there.
The state government has not laid sewer lines in the village. Besides, there is no facility of streetlights in the village. The drinking water supply pipes leak at various points. No attention has been has paid to the villagers' long-pending demand for the construction of a sports stadium or parks.
There are four anganwari centres in the village but these don't have their own buildings. The building of a government primary school has outlived its life. The roof of the rooms was constructed with wood and bricks more than four decades ago.
There is only one sub-centre for healthcare of villagers that has only an auxiliary-nurse midwife (ANM).
There is a carcass dump near a populated area in the village but it has no boundary wall. Villagers don't prefer to take that route fearing a threat from stray dogs.
Besides, the bridge of a drain, built on the Sangrur-Saron road, has no railing on both sides at Benra village due to which several accidents have taken place in the last few years. The circular road (phirni) of the village is broken at several stretches. Besides, the village still has at least 20 "kaccha" streets.
Sarpanch of Benra village Amarjit Singh said the village had not got any benefit from the adoption of village by the MP so far. He said the MP had visited the village four times till now, but no development work had started in the village. Sangrur DC Arshdeep Singh Thind said the plan for Benra was now ready and it would be adopted at a meeting to be held soon.
Top News
The team consisted of trainee mountaineers from the Nehru In...
Says won't affect the reservation for Gujjars under the ST c...
A mob had stormed the national stadium in Male on June 21, s...
Said there must be reduction in layers of command and contro...