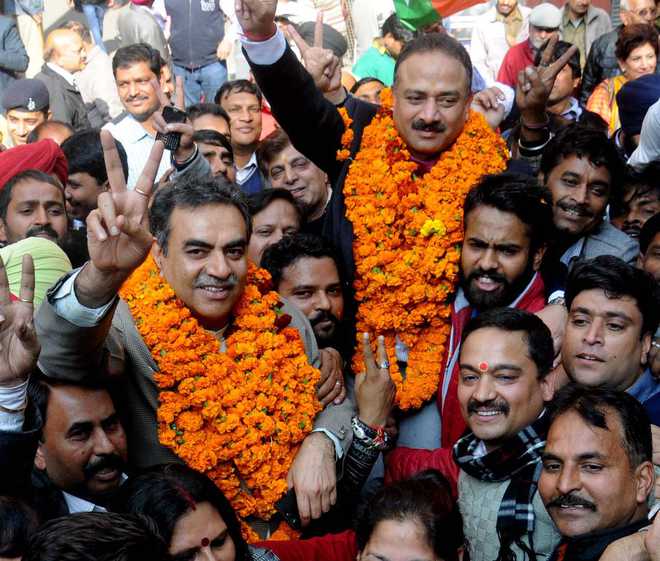 Rajinder Nagarkoti
Tribune News Service
Chandigarh, January 8

The BJP-SAD alliance on Friday grabbed all top positions in the Chandigarh Municipal Corporation, the elections for which were held today.
The BJP-SAD won the mayor seat after 15 years.
BJP-SAD candidate Arun Sood has been elected Mayor, Davesh Moudgil senior Deputy Mayor and Hardeep Singh Deputy Mayor.
Sood defeated Congress candidate Mukesh Bassi by six votes. Of the 36 votes, Sood was polled 21 votes, while Bassi got 15.
Sood was fielded by the BJP earlier in 2013 for the post of Mayor, but lost the election to Congress candidate Subhash Chawla.
Davesh Moudgil got 23 votes, Congress candidate Darshan Garg 13.Likewise, Hardeep Singh defeated Congress candidate Gurbax Rawat by six votes.

Top leaders, including Union Health Minister JP Nadda, Punjab Chief Minister Parkash Singh Badal, Haryana Chief Minister Manohar Lal Khattar, Punjab BJP chief Kamal Sharma and many other ministers from the Centre, Punjab and Haryana, had campaigned for BJP-SAD alliance candidates in the high-stake civic body polls in Chandigarh.
It's a big setback for the Congress, who was eyeing to win the Mayor's post for the ninth time in a row.
The number game
∙ The MC has a strength of 36 members — 26 elected councillors, nine nominated councillors and the MP.
∙ The Congress has eight councillors, the BJP-SAD alliance 15 and the BSP two. One councillor is an Independent.
∙ There are nine nominated councillors. Local MP Kirron Kher, who is an ex-officio member of the House, also has a vote.
Top News