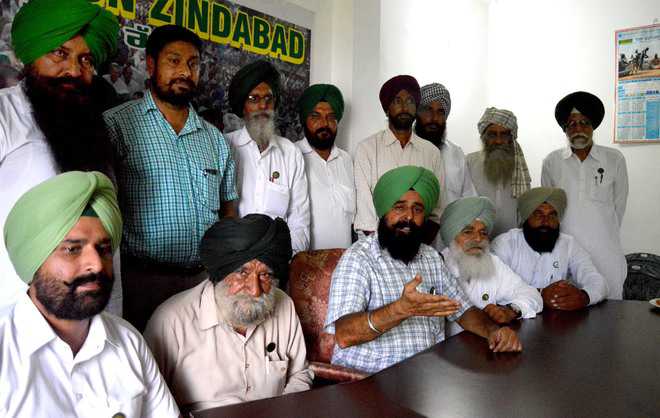 Our Correspondent
Ludhiana, July 10
The Bhartiya Kisan Union (BKU) has called upon the Punjab Government to take immediate steps to waive off all farm debts of farmers with landholding of up to five acres to check continuing suicides by debt-ridden farmers. Further, the minimum support price (MSP) of different crops should be fixed 50 per cent over and above the cost of cultivation to enable the farmers to pay back fresh agricultural loans.
These demands were made by the BKU secretary general, Puran Singh Shahkot, and general secretary Harinder Singh Lakhowal during a news conference after a meeting of the state committee of the union held here today.
They emphasised that in order to maintain food security of the nation, agriculture should be accorded the status of 'industry' so that in case of crop losses, the farmers could be treated as 'sick industry' and avail facilities, including remission or loans. At the same time, the provision of dispossessing the farmers from their land for default in repayment of loans should be scrapped, they said.
The BKU leaders rubbished the Union Government's decision of providing farm loans at 7 per cent interest and a lower rate of 4 per cent for timely repayment. "This facility is available to the farmers for the last four years and what the farming community wants is interest-free loans which will go a long way in pulling them out of an unprecedented financial crisis," the leaders added.
According to Shahkot and Lakhowal, the state committee, through a resolution, demanded that the MSP of basmati rice be fixed and a bonus of Rs 650 per quintal be announced on paddy procurement. The members further expressed concern over sacrilege of holy Quran Sharif and asked the government to take stern action against the culprits to effectively check recurrence of such incidents.
Moreover, the BKU strongly opposed the stand taken by convener of Aam Aadmi Party Sucha Singh Chhotepur that if voted to power in Punjab, the party would withdraw the free power facility to farmers.
Other demands raised at the meeting were speeding up the process for release of tube well connections for land holding up to five acres, replacement of burnt transformers within 24 hours and immediate payment of arrears to sugar cane growers.
Top News
BJP leaders attack the Congress, accusing the party of invit...
Ten women and a man died in the accident, state home ministe...
Several vehicles torched, shops ransacked on Thursday evenin...
India reports 40 per cent jump in new Covid cases