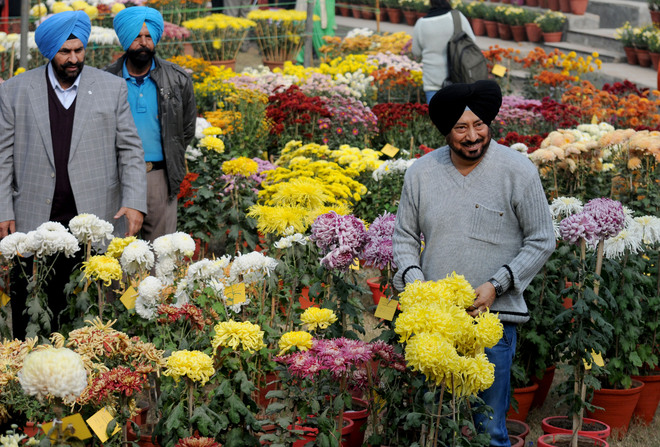 Tribune News Service
Ludhiana, December 8
Myriad hues of blooming chrysanthemums were a treat for visitors during the "Annual Chrysanthemum Show" which was inaugurated at the Punjab Agricultural University (PAU) today.
The Department of Floriculture and Landscaping, and the Estate Organisation of PAU have jointly organised the two-day show in memory of renowned Punjabi poet Bhai Vir Singh.
About 3,000 pots with more than 250 varieties of chrysanthemums have been displayed at the venue.
Inaugurating the show Chief Guest Dr Baldev Singh Dhillon, Vice-Chancellor, PAU, said: "Flowers beautify surroundings as well as spread the message of happiness and peaceful co-existence."
"The Department of Floriculture and Landscaping, PAU is a leading centre of the Indian Council of Agricultural Research (ICAR) for the production of new varieties and regulation of production in chrysanthemums," he said.
Dr Dhillon said PAU, through this show, wishes to promote flower cultivation for landscape use, commercial venture and rich environment. He paid tributes to Bhai Vir Singh, who was an ardent lover of chrysanthemums.
Dr AS Dhatt, head, floriculture and landscaping, said: "Chrysanthemums have a rich diversity and flowers of different sizes and shapes are available. The department has released 17 varieties including seven hybrids. Varieties like Alfred Wilson, Crimson Tide, Valiant, Thai Ching Queen, Purnima, Cassa Glanda, Boris Wilson, Obsession, Garden Beauty, White Bouquet, Mother Teresa, Yellow Charm, Kelvin Tattoo and Kelvin Mandarin are the major attraction for visitors."
Experts, including Dr KK Dhatt, Dr HS Grewal, Dr Parminder Singh and Dr Madhu Bala, said the department had organised the competition for the first time on public demand.
The competition got excellent response from city schools, colleges, nurseries and individuals and more than 400 entries have been received, they said. A new variety "Punjab Shyamli" has been released for cut flower production and is on display at the show.
Besides, the department has also developed a technology for the production of chrysanthemum blooms from November till April, they said.
Top News
Among the 10 who put in their papers are nine Lok Sabha MPs,...
The withdrawal of statement by MP Senthil came when the Hous...
DNV Senthil Kumar on Tuesday triggered a row by using a pejo...
The DMK MP's remark on Hindi heartland states had led to a f...
A senior police officer says security has already been stepp...