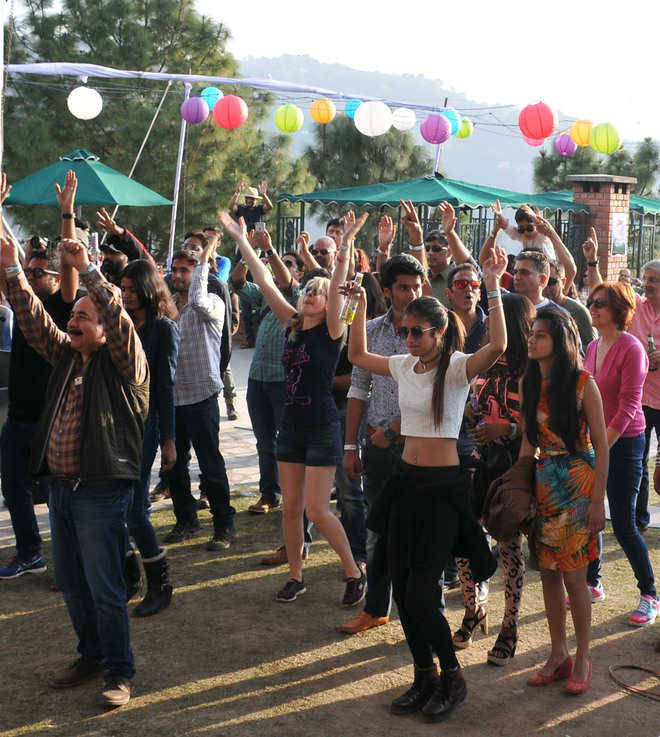 Amarjot Kaur
Often, when the spirit of charity dances attendance on music that celebrates a cause which pulls over 400 people to Baikunth Resorts at Kasauli, it tenders a rather ceremonious definition to a music festival for fund raising.
The fifth edition of the three-day long Kasauli Rhythm and Blues Festival, which got the crowd pouring not only from Chandigarh, Delhi and Bombay, but also Sri Lanka, USA and Switzerland, was organised by the Genesis Foundation, a trust that is dedicated to the cause of treating critically ill orphans, and children from families whose monthly income is less than Rs 10,000.
Never mind the purists who kept mulling over the line up of musicians which didn't necessarily include only those who sang the blues, but Bollywood singer Shilpa Rao, pop music singer Leslie Lewis and rock band, The Local Train, who did somehow add to the flavour of variety. Besides, the festival stood attended by Dia Mirza, who brought to the table not just glamour, but her sensitivity towards the cause that the festival is associated with.
So, while we managed to catch hold of the musicians backstage, the audience kept the beers flowing as the bands kept the good music and good times rolling in the backdrop of beautiful foothills of the Shivalik range!
Beauty with a beautiful mind
Dia has been in news for her tweet that read: The irony of the times we live in: farmers commit suicide due to drought and people waste water to 'play' #Holi. Go ahead call me anti-Hindu. At the festival, she only feels the need to clarify the "anti-Hindu' bit of her tweet. "The intention of the tweet was to address the environmental concerns, but it has been misconstrued and coloured with a religious shade. I wrote anti-Hindu because the comments on my previous tweets about cracker-free Diwali invited nasty comments and I felt the need to justify this part of my tweet. The rest, I don't feel the need to talk about," she says. Dia, who has been associated with Cancer Patients Aid Association, Spastics Society of India, PETA and CRY, says that it was the cause of the festival that brought her to Kasauli. "I am producing three films now and will soon be hosting a travel show with a message to the society, on Zee very soon," she signs off.
Greenroom talkies
Blending in
Who would mind the beats of tabla with pieces of guitar, seasoned with the sound of sitar? A feast for ears, prepared by Fazal Qureshi, Ravi Chary and Ravi Iyer, the band that deviated from the traditional and took it beyond the orthodox expression of classical music, believes that they aren't a fusion band, but they are given excessively to the art of blending western influences. "I have played with L Subramaniam, Padmabhushan Shri Vikku Vinayakram, and Shri Sivamani and we all have been associated with each other for over 7 years now. We like the idea of blending. So, we'd rather say that the kind of music we do is world music," says Fazal.
The local connect
Based out of Delhi now, The Local Train was formed in Chandigarh and has now been listed on number 1 list of Top 50 Rock Bands of India by Sennheiser. Recently, their song, Aaoge Tum Kabhi was featured in the movie Angry Indian Goddesses! After an electric performance at the festival, band members including, Raman, Paras, Ramit and Sahil share their future plans. "We'll be making instrumental music for an adventure documentary short film called The Fall, very soon. One of the tracks to be featured in the movie is called Can't Climb, Can't Chant," says Raman, the vocalist of the band. The band recently released their new album, Aalas Ka Ped (the tree of laziness).
Frisky enough
The pop rock band from Mizoram, Joseph Dinji, Anggu Pachuau, and Valentino Khiangte together make the Frisky Pints, who get most of their influences from Dire Straits, James Brown, Michael Jackson, Elvis and BB King. "In Mizoram, which is essentially a Christian state, if you are singing secular songs in English and not in Mizo and if you are not a gospel singer, you will be broke," says Joseph while explaining us a little about the music scene in Mizoram.
"While the gospel singers earn a lot, we have been struggling for over 6 years now. So, we started a festival called Zai Mizoram Festival last year, where a lot of artistes from across the nation performed," he adds. Meanwhile, Valentino adds, "Also, in Mizoram, gay pop music bands are setting the underground music scene in motion."
They've got the blues
Kanchan Daniel and The Beards, an Indian blues band from Mumbai that was formed in 2012, say that they do the blues with a twist of R&B, soul, funk and psychedelic rock to form a free flowing stream of sound.
While Kanchan Daniel reminds one of Janis Joplin from Woodstock 1969, she says she seeks much inspiration from Janis. "I am associated with the festival because I was diagnosed with cancer when I was only 17 and we are playing here for free," says Kanchan. The band is quite quirky with its sound and seeks inspiration from comic strips. "For instance, the song, Tick Tock, which will also be featured in our album that will be released soon, is inspired by Spy v/s Spy. We are experimental with our blues," laughs Kanchan, who performed at the Holi Moo Festival.
Top Stories