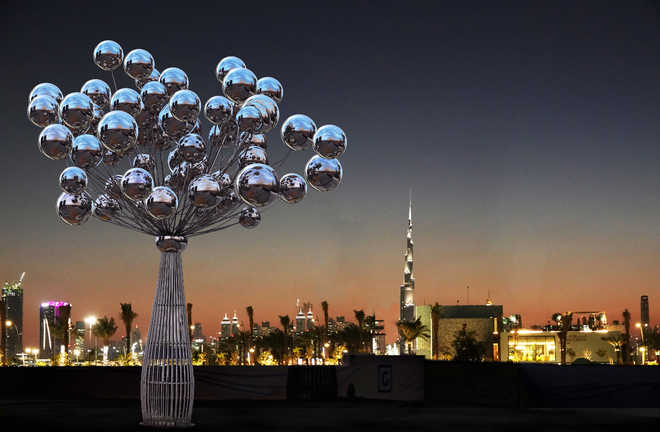 Nonika Singh
"At the end of the day, it is all about creativity," says Vibhor Sogani, fusing the lines between design and art, between being a product designer and public installation artist. The man, who has just finished creating a massive 30-feet public art piece, Joy in Dubai, may find himself in a fluid space where he is juggling many jobs and assignments. But nothing gives him greater joy than creating art for public. The visitors to Delhi might be only too familiar with his art work, Sprouts, right in the heart of New Delhi near AIIMS flyover. "People may deem art superior to design but designing is serious business and a very responsible job," he says. He is not suggesting that art, which has the power to change mindsets and is crucial to the growth and development of a nation, is any less significant.
Public art, his current muse, is even more important for a nation like India, for many reasons. He adds, "Since India has so many people and so many public spaces, it is an ideal ground for engaging with them through art." Of course, when art moves from the gallery to the streets, there is a paradigm shift in parameters. "The all-important ingredient of public art is engagement with people," he says. Scale and size, he insists, are not paramount to catch public attention and even a two-feet-tall public art work can be a cynosure of eyes. Indeed, his material itself is eye-catching.
An alumnus of National Institute of Design, Ahmedabad, and having worked in the field of industrial design, he is well-versed in the craft of materials as well as technology. Stainless steel, certainly not the easiest of mediums to tame, remains his perennial favourite, for it allows him a spectrum of shades, from glossy to matte to mirror finish. Interestingly, he used the mirror finish to make a pertinent point in his work, Mahatma in Me. Exhibited in Australia, it coincided with Gandhi Jayanti and the International Day of Non-Violence by United Nations. Till date, out of all his creations, he considers this work, replete with philosophical wisdom of the Father of Nation, as his toughest assignment. "I am an abstract artist. To work around a personality and translate Gandhi's vision, which is so vast and deep, made me think and rethink; so much so, I was clueless for three months." Then he stumbled upon a new language, reflective and dynamic at once.
How much of creativity is sacrificed when it is a commissioned project, which comes with a definitive guideline? He insists, "We all need a sense of direction. After all, you need to align yourself with something. I think the brief given to me by my client is only a starting point. Thereafter, I am free to follow my vision." Take his work, Sprouts, which came about as the Delhi Government's initiative towards the beautification of the Capital at the time of the Commonwealth Games. 'From walled city to world city' was the one-line brief given to him by Sheila Dikshit, the then Chief Minister of New Delhi. Similarly, for the Dubai project all they wanted was a happy space. For Kalpavriksha in Ahmedabad, Gujarat, which is adjacent to the golf course, he took a cue not only from Indian mythology but also from nature, whose magic never ceases to amaze and inspire him.
To create, he follows both the reactive and proactive approaches. At one moment, a chance encounter could trigger a chain reaction and at another, a premeditated strategy and pressure of deadlines could yield results. Either way, he says, it's all about getting to that moment and shouting Eureka. But he also reminds that while thinking of an idea is instant, putting it into a tangible shape of art is slow and time consuming. However, nothing stops him from dreaming the one thing that he deems is common between art and design. Forever in the reactive space, "ready to catch the spark", the artist-designer, whose works are planned with faultless detail, however, doesn't care to plan his life. "Go with the flow," he says. Clearly, nature is his fountainhead of inspiration in more than one way. Recipient of 'Indian Art Icon of the Year 2014' in Singapore, the real challenge for him is not to outdo others but further raise the bar he himself has set.
Top News
Mann polled 2,53,154 votes, while Singh secured 2,47,332 vot...
Political journey of Mann started when he resigned from Indi...
From resistance against Mughal invaders to British Empire, f...
Punjab CM Bhagwant Mann's leadership also under scanner
The result clearly indicates that anger of voters against tr...