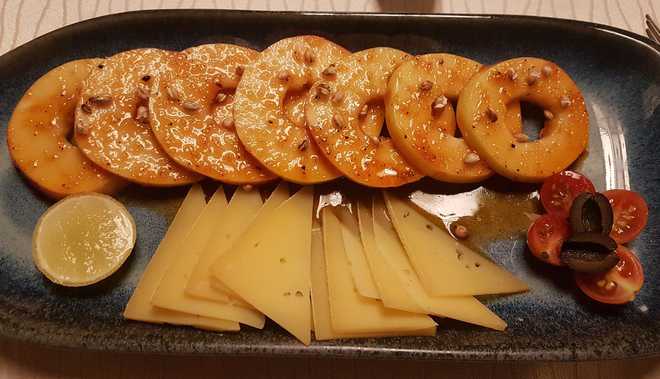 Khursheed Dinshaw
The cuisine of Leh and its surrounding areas is a delicious mix of unique taste, flavours and aromas created using local ingredients and varied cooking methods. Once you land at Leh, one of the most important acclimatisation tips is to slurp on the wholesome garlic soup made with sliced fresh garlic, shredded cabbage, chopped French beans and carrots.
"The garlic soup warms you up and increases the blood circulation. It helps in increasing the oxygen supply, which is crucial to acclimatisation in Leh," explains Danish Din, director of a luxury hotel in Leh.
Butter tea is normally drunk for breakfast and is prepared using milk, butter and salt. Traditionally, yak butter was used to prepare it. However, since it is an acquired taste, now butter prepared from cows or dzomos, a female hybrid between a cow and a yak, is used. Khambir, which is a freshly baked thick bread made from wheat flour, is eaten with butter tea.
Barley is the staple of the Ladakhis. Roasted barley called yosza is a snack eaten with apricot kernels. It is also garnished on salads with yak cheese and ground into flour. Momos or steamed dumplings with vegetarian and non-vegetarian fillings and thukpa or a noodle soup make for hearty dishes. While geuma is Ladakhi sausage, vegetarian skew is a dish of handmade pasta, cooked with vegetables. Fing aloo is potatoes cooked with rice noodles in a gravy. Mutton shapta is a mutton stew that is eaten with fluffy steamed buns called tingmo. Puli is a bread which tastes like a biscuit and is taken along by the Ladakhis while visiting friends and family.
Chuli treat
In the summer season, fresh apricots called chuli are eaten. They are dried to be eaten in winter. "Dried apricots, locally known as phatind, are either deseeded or whole apricots are soaked in water till the flesh mixes well with the water. The resultant sweet pulpy mix is served to the guests," adds Tchewang Norbu, chief spotter of Ulley village, which is a hotspot for wildlife spotting, specially the snow leopard. Norbu's family manages the Snow Leopard Lodge in Ulley. Typically, a Ladakhi home has two kitchens. The first floor kitchen is used in summer and the second kitchen on the ground floor is used during winter. Sea buckthorn is a berry that is freshly available in September in Leh and the nearby villages. Thereafter, it is dried and turned into oil or cream to increase its shelf life. The berry is a powerhouse of vitamins and minerals like potassium, calcium, iron, phosphorus, Vitamin B1 and B2, Vitamin C and E.
"Local berry cream is a scrumptious sweet dish made with locally available apricots and sea buckthorn. Both are blended 12 times to create a soft, melt-in-the-mouth dessert that gives the health benefits of both apricots and sea buckthorn," explains Puneet Kaushik, executive chef of The Grand Dragon, Ladakh.
Top News
UNGA: In veiled attack on Canada, says non-interference can'...
Asks Attorney General to get matter resolved
HP Govt's rented house plan yet to take shape