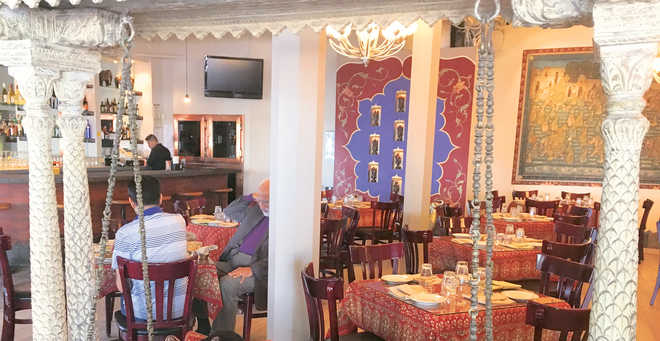 Tanushree Ghosh Dhall
Almost all Punjabis in the US have these things in common: they'll probably be in the restaurant business (either as owners or chefs); they usually stick together and you can never take Punjab out of their heart. These typical traits of this inclusive community are bound to generate stereotypes about them.
There is nothing unusual about bonding with one's community, especially in foreign lands where the community acts more like an extended family. Within the fold of any community, there are tremendously intrinsic, individualistic stories of the diaspora which are either lost or not talked about enough. These stories break the stereotype by moulding it and give life's lessons worth learning for members of all communities.
Building interfaith bridges
Dr Jaswant Singh Sachdev, a Phoenix-based neurologist, and a faculty member of Carl T. Hayden Veteran Administration Medical Center, is a prominent speaker and author of four books. His is one such success story. Talking about the issues that the Sikh diaspora faces in the US, his answer is quite honest but not unexpected. He feels the unique identity of Sikhs and their faith puts them at a disadvantage, both at home and abroad. And it is no different in the US. The 'boisterousness of their psyche' makes the Sikhs stand out and sometimes victimised, which often turn out cases of mistaken identity.
Dr Sachdev has experienced this victimisation first hand. Brother of his close friend was shot point blank in front of his gas station post 9/11 in his hometown of Phoenix. But remaining true to his faith, he endeavoured to stop spread of animosity further. His actions went beyond awareness dialogues and campaigns that often affected loved ones choose to pursue after tragedies or hate crimes. He started going to churches, colleges, schools, inviting people of different faiths to gurdwaras and gave information about Sikhs, who they are what they stand for. He also started a monthly homeless dinner for the homeless. He would bring 10 to 15 Sikh volunteers and provisions to cook simple vegetarian hot meals onsite that would serve more than 200 homeless persons at the Phoenix Rescue Mission.
And he has continued this selfless service for 20 years without fail.
Dr Sachdev's mission of live and let live didn't stop here. He also started the Arizona Interfaith Movement that helps people of any faith encountering difficulties due to their religion or nationality.. It holds an annual interfaith event where people of different faiths get together for an interfaith dialogue. The langar at this event is provided by members of the Sikh community under his supervision to the hundreds who show up. A gala event is also held in the last week of October or first week of November at Heritage Square in Downtown Phoenix.
Giving back to the community
Author, entrepreneur, speaker and management consultant, Raveen Arora is a diversity champion and founder of Think Human. A restaurant owner, he has opened a community centre, adjacent to his restaurant, The Dhaba.
He started the centre in a rundown area where drug abuse and homelessness were rampant with a mission of giving back to the community. He is now a major enabler of the economy of the suburb. He has donated the land adjacent to his plaza for a ramp for the disabled and crosswalk which enables nearly 1,500 residents in the neighbourhood to safely access the bus stop, nearby shopping services, and the light-rail station. He also provides interest-free loans to bright students working in his restaurant.
His is not only a story of giving back in gratitude but a gritty rags-to-riches story as well. Arora, who is an accountant by profession, had extremely humble beginnings in poverty and hunger. From someone who faced ravages of polio as a refugee in the streets of Kolkata during his childhood, he has built a career and reputation that has seen recognition from heads of states (including President Carter) and industry leaders.
His beliefs and principles are as simple as his beginnings. He believes there are no limits in serving the humanity. Arora, who is over 60 himself, makes a point to visit the Friendship Village that serves elderly suffering from dementia, whenever possible.
Of grit and a never-say-die spirit
Septuagenarian Kusum Tuli is the face and force behind the Jewel of the Crown, a premier and one of the most highly rated restaurants in Arizona. A housewife and mother of five, she had no business or work experience. She had, even in her wildest imaginations, never dreamt of running a restaurant. Like a dutiful Indian wife, she started to help her husband, who was struggling to run a seafood restaurant, which he had somewhat accidentally ended up with.
Despite no experience of any kind, she has built her restaurant into a niche brand that provides customers a warm home-like experience but with touches of luxury not possible at home.
Recalling her journey, Tuli says, "In those initial days of struggle, someone gave us advice that turned the tide for us." As it came from another seafood restaurant owner, the Tulis followed it without a doubt. He told them to stick to what they know and suggested her to treat her customers as her guests who were there to dine at her invitation.
Her story seems straight from Bollywood movie Kal Ho Na Ho. In those difficult days when they were understaffed, she started managing the kitchen at the Jewel. Like any experienced Indian wife, Tuli forbade her husband to help her in the kitchen and the restaurant. He too has complied with her 'advice' since then. The result can be seen. From a simple housewife to a successful restaurant owner, she is one of the many success stories of diasporic grit and survival spirit.
These Punjabis may have remained within the stereotypes cast for them but they have not let these stereotypes define or limit their horizons in the alien land where they have put their new roots and have made it home.
Top News
Says one of the Bills seeks to give representation in Assemb...
Among the 10 who put in their papers are nine Lok Sabha MPs,...
Resignation of Union ministers also revived speculation of r...
The withdrawal of statement by MP Senthil came when the Hous...
The Punjab DGP office had written a letter to Rajashthan Pol...