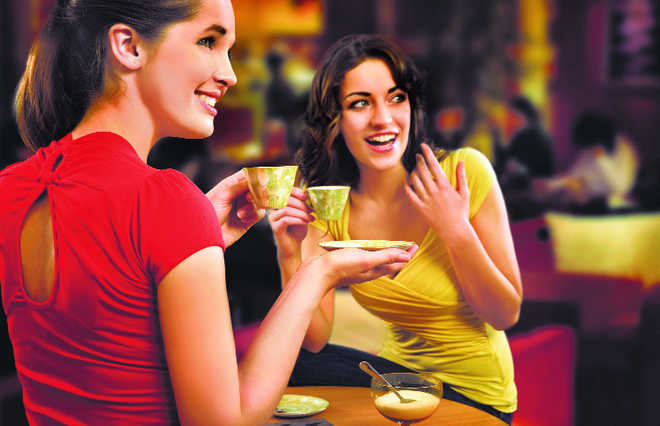 Surekha Kadapa-Bose
India's favourite pastime and preferred beverage has taken a gourmet avatar with luxury tea boutiques offering exotic flavours and blends
Chai or the humble tea always had pan-India popularity whether be it the cutting-chai of Mumbai, adarak-ilaichi chai of Delhi or masala chai of Ahmedabad. But in recent years having tea is turning into a gourmet experience. Fuelling this trend are luxury boutiques and café, giving boost to the newly evolved tea culture.
Catering to the niche up-market clientele, these high-end outlets have come up in cities like Mumbai, Delhi, Bengaluru, Chennai, Goa, Cochin, Kolkata and other metros in the last couple of years, catching up with the trend in the western world.
Tea has enormous health benefits due to the presence of polyphenols (an antioxidant) and phytochemicals. These have been linked to a lower risk of heart disease, cancer, and diabetes. Tea connoisseurs swear by personalised blends and flavours they favour.
Tea brewing and drinking has been there since 19th century in India. It was the East India Company which introduced commercial growing of tea.
The current trend of personal blends owes its existence to people's exposure to international cuisine by the way of travel.
"A perfect tea requires exact amount of water, precise heating time and accurate quantity of tea leaves. Slight change in this combination will change the taste and flavour," explains Delhi-based tea sommelier Anamika Singh of Anandini Himalayan Tea Boutique.
Most of the owners of these tea boutiques are passionate about the brew. To get the best blend, they experiment and infuse tea with different blends. Besides the common blends of lemon, mint and tulsi-infused brew, tea sommeliers try some unique blends, infused with exotic stuff like saffron, chamomile, rose petals, marigold, lemon balm, pomegranate flowers and a lot more.
"I always enjoyed masala chai till I saw the blends being offered by tea boutique Tree Trunk. I have always loved the vanilla's flavour and the thought of having tea with a blend of vanilla was exciting," says Farzana Patel of Mumbai whose family is associated with one of the most popular restaurants Wayside Inn in Mumbai.
To get the best of their passion, tea sommeliers or tea boutique owners learn this art. Anamika grew up on a tea estate. She learnt this art on the job when the family started its own plantation in Majhee Valley tea estate in Dharamshala, Himachal Pradesh.
Snigdha Manchanda of Tea Trunk, Goa, did a tea-tasting course in Sri Lanka. She became a certified tea sommelier before opening her tea boutique. She sells tea from both her retail outlets and also through her website www.teatrunk.com.
These two women and few others like Teabox, Chaado etc. have made the simple brewing of tea an art. They conduct workshops to teach about tasting and brewing tea. And having tea at their place is an experience that you wouldn't like to forget. Anamika at her tea boutique first offers some small rice cookies to clean your palate. And then she offers the brew infused with various flavours.
Issac Alexander of Pepper House café at Cochin swears by white tea provided by Tea Trunk. He says, "I like the soothing, gentle taste of this brew. "
White tea is one of the costliest teas. A box of 15 sachets costs Rs 1,350. The leaves are plucked only on full moon nights. This is when the leaves retain maximum moisture and there is minimum processing.
In fact, most of these tea blends come at a high price. Ordinary tea that we buy costs between Rs 200 to Rs 350 per kg, whereas any boutique tea cost from Rs 500 to Rs 5000 for a 100 gm pack!
Like wines, these blends can be paired with particular foods. For example, a pinewood smoked tea should be paired with pork chop, flowery green tea with grilled chicken etc. But will this expensive trend, which, at present, has more of elite clientele percolate down to others also? Alexander affirms, "Once people start realising the beauty of drinking real tea and not a concoction of milk-sugar syrup brewed with tea dust, the trend will catch on!"
Tea-food pairing
White tea: Extremely subtle flavoured, it should be paired with equally mild flavoured dishes like plain basmati rice.
Green tea: With its vegetative flavour and aroma, it should be paired with mild flavoured food items like seafood, rice, salads, melons or chicken.
Oolong tea: As it has a wide range between black and green tea, it comes with a slightly complex flavour. So a greener oolong will go well with scallops, lobster or sweet, rich food (not deserts). Darker oolong tea would go well with grilled meats.
Jasmine green tea or floral oolongs: Best to have it after a dessert of dark chocolate.
Dragonwell green tea: Pair well with almond chocolates or other nutty chocolates.
Sencha green tea or Matcha green tea: Have it with milk or white chocolate
Smoked tea: Goes well with really dark, bitter chocolate.
Oolong with sweet honey tones: Pairs well with chocolates infused with citrus flavour.