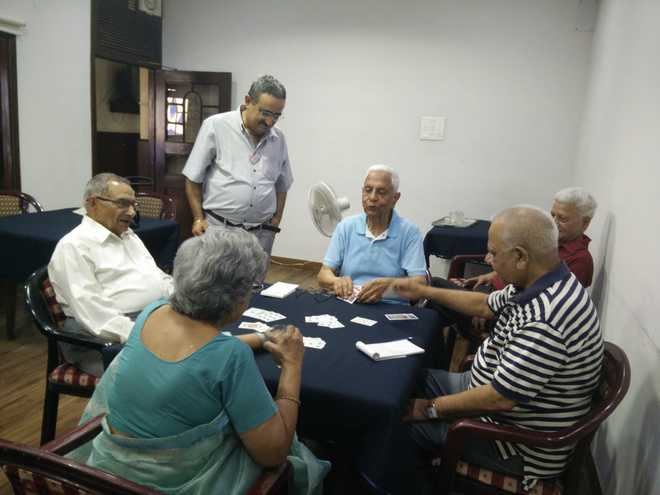 Mona
Even as the temperature soars, these six dare to leave the cool comfort that a home offers and bear the heat to keep their date! The nondescript room that they sit around the table in has a non-functional air-conditioner; perspiring profusely they refuse to let go the cards in their hand.
Two diamonds, two hearts, two no-trumps... the bid matures and the pair wins the hand calmly; no voices raised, no tempers flared. For the next game, four of diamonds is the bid that the calling pair loses. Result: some commotion and increased voices. "Rajesh is hot-tempered," observes one patiently waiting for his turn. Welcome to the world of bridge players!
Happy note
Bridge is not only an engaging game, but also one that can make one murder one's partner! The sentiment is the same in City Beautiful where some 100 plus members of Chandigarh Bridge Association meet regularly, play almost every single day and travel together to participate in national and international tournaments.
Passion binds this group together. While the youngest member is in the 40s, two of them are well into their 80s! Eighty-three-old Jagdish Sama's hands shake when he picks up a glass to drink water, but not when he is holding cards! Such heat doesn't deter these passionate players! As the make-shift arrangement, pedestal fan, is turned towards Sunanda Jain, an elegant lady dressed in a fine see green cotton sari, pearls and diamonds shining on her neck and hands, she takes a moment to pass one shot, "I am an Army officer's wife; I can deal with any conditions". Surely she does, making a three no trumps in the given cards was no mean task, she sure knows her moves well!
"Bridge ne hi zindadi barbad kar di," says Sunanda, who has an equally passionate partner in her husband Col (retired) BK Jain, who without any qualms leaves a party at home to play bridge. The game made a chance entry into her life. She would often watch her brother play with his friends; once when her brother had to leave suddenly he gave Sunanda, 17 that time, his hand to play. With her brother's doctor friend, Sunanda won the rubber and out of the winnings, sawa rupaye, he got her the biggest Cadbury chocolate she had ever seen! Her love for the game only gets stronger with time, "There is no time to sulk or feel unhappy, pick up a fight with husband, son or daughter-in-law."
Very addictive
"I have always known these people; now that I play with them I know them better," says Dr SP Kaushik, who retired as head of department of GI surgery from PGI. "It's a very addictive game," he adds.
— Dr SP Kaushik, surgeon
Good times
"It's been 38 years that I have been playing bridge. Of course, I can play any other game but this takes some level of intelligence. Now that I am retired, I love to play seven days a week; it is a wonderful way to spend time."
— ML Tayal, ex IAS officer
Long time
Bridge got me good time and good friends. It's been 50 years and my love with bridge is going steady.
— Jagdish Sama, Ex-IRS officer
Changing decades
I am 88 now and bridge has been an essential part and parcel of my life for 65 of those years. The game has undergone a major change over the decades; I stick to conventional game and dare I say I am pretty good at it. Bridge is what keeps me going.
— OP Dutta, ex-engineer.
Young guns
A thinker's game it is and my first love. What I don't feel right is that old players don't encourage young players to join in. Rookies make too many mistakes; so the younger generation is hooked on to the internet, playing with people from different nations and time zones.
— Vinod Kaushish, retired income tax officer
Learning curve
Stop, think, proceed is what bridge teaches you. Also, how to tolerate you partner! Quick calculations, strategic planning is what you gain too.
— Rajesh Chadha, management consultant
mona@tribunemail.com