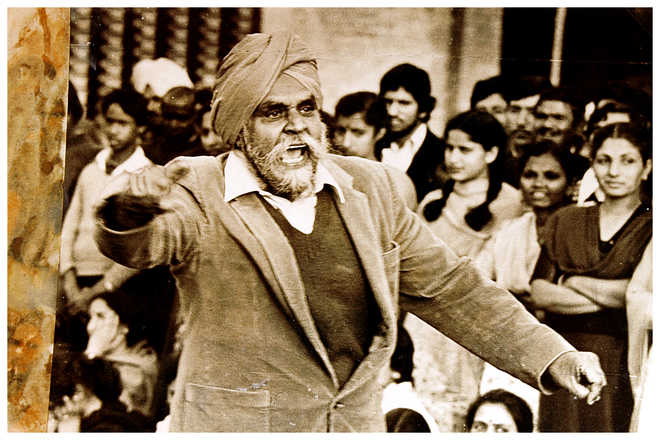 Vishav Bharti
in the 1970s, Gursharan Singh had gone to a village in Punjab for a theatre performance, but the organisers failed to make any arrangements. "Can we stage one or two small plays here?" he asked an old man sitting in the sath of the village. The old man retorted, "Sardara tu kanjarkhana hi karna; jithe marji kar lai." The answer astonished this engineer-turned-theatre director who hailed from one of Amritsar's most elite families. The man realised doing theatre won't be enough. "A lot more needs to be done." The whim to replace that word with 'revolutionary theatre' became his commitment.
For three decades later, after more than 5,000 performances in Punjab's hinterland, Gursharan Singh would often share that old man's comment and boast how theatre in Punjab is no more known as kanjarkhana. It has attained the status of revolutionary cultural movement. Six years after the thespian's death, his daughters — one an economist and the other an eye surgeon — have started building the archive of Punjab's revolutionary culture.
Called the Public Archive of Revolutionary Culture, Punjab, they aim to document how theatre in Punjab attained "identity as revolutionary culture in villages of Punjab," tells Dr Areet, Singh's younger daughter, who is an eye surgeon with the state's health department.
The first step in this direction has been taken with an online archive. She says that they have also decided that the house in Chandigarh where Gursharan Singh spent the last 25 years will be turned into a museum of Punjab's revolutionary culture, which traces its roots to Indian People's Theatre Association (IPTA). "Since that house is not being used for living, initially we will open two rooms for the public. Later the entire house will be converted into a museum," she says.
Besides a permanent photo exhibition, the museum will showcase 200 of his published and unpublished scripts of long and short plays, documentaries on his work, music he helped create, copies of Punjabi magazines Sardal and Samta that he edited and co-edited, books he published under Balraj Sahani Yadgari Parkashan, photos, letters, diaries, TV plays, writings of scholars on his theatre and a few recordings of the drama performances.
The online archive, started recently, has a collection mostly compiled from records available with the family. "This archive," says Singh's elder daughter Navsharan Kaur, who is an economist with Delhi's International Development Research Centre of Canadian Government, "is a small effort with no claims to bring all revolutionary cultural material under one platform in one go. We hope that we will grow through the collective efforts of all those who believe in archiving, learning from history and seriously debating the role of revolutionary culture for social change."
The archive will be an open access platform to the students, cultural activists and others to understand, write and develop revolutionary culture in Punjab. "The aim is to see these records used, developed and reconstructed," says Navsharan.
The archive, Navsharan hopes, will be a platform dedicated to deepening our understanding of the role of culture for social transformation. Punjab has an extremely rich tradition of progressive poetry, drama, and music forms, which draw inspiration from, and, at the same time, contribute to social and political movements for change. "This relationship of culture and movements has a few parallels in contemporary history. The idea behind building this archive of revolutionary culture is preserving the legacy and bearing witness to the dark times in our contemporary history," she says.
The idea of the archive, she says, is to represent the deep-seated belief that the lives of ordinary working people are not what they ought to be.
The original idea was to open the museum at their Amritsar house, Guru Khalsa Niwas, which her father had a strong emotional attachment with. "As my father's other siblings also had share in that, it couldn't materialise," says Areet. She shares a three-decade-old story related to Guru Khalsa Niwas. "In 1983, my father returned from the UK. He was really happy to see well-preserved houses of writers like Wordsworth, Shakespeare, etc. In our street, Akali leader Master Tara Singh, cricketer Bishan Singh Bedi, artist Paramjit Singh used to live. He wanted to see the street become artists' street some day. That dream remained unfulfilled," she adds.
After threat issued by Khalistanis, Gursharan Singh was reluctant to leave Amritsar, but was forced into it by his comrades. He moved to House No. 1245, Sector 43 in Chandigarh in 1987. The same house will now be turned into The Public Archive of Revolutionary Culture, Punjab.