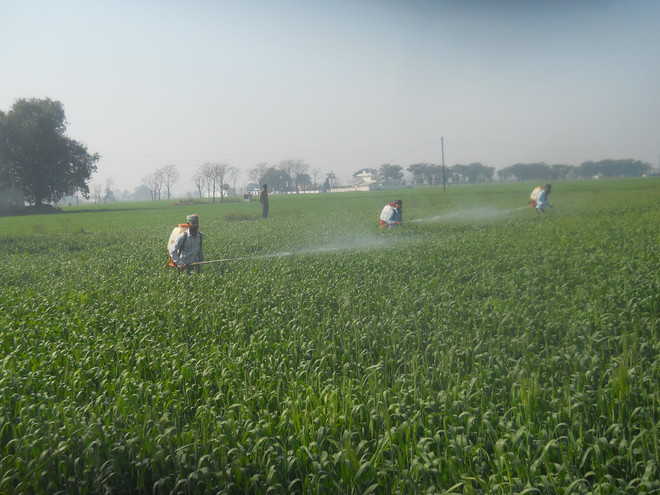 Sanjay Bumbroo
Tribune News Service
Fatehgarh Sahib, February 16
After yellow rust, the attack by brown plant hopper on wheat plants has increased the worries of the farming community in the district.
Farmers Manpreet Singh and Nachatar Singh of Kalewal village told the Tribune here today that they had taken 18 acres on contract for agriculture.
They said that earlier, water had accumulated in their 3-acre land damaging the paddy crop, the compensation for which is yet to be given by the state government.
He said that now, brown plant hoppers have started attacking the wheat crop after the sudden increase in temperature, forcing farmers to spend Rs 400 per acre on labour and chemical sprays.
Another farmer Surjit said that if they did not go in for sprays, brown plant hopper would suck the juices out of the wheat grains. That would result in reducing the yield by 3-4 quintal per acre.
He said the attack of the brown plant hopper was so contagious that if it is not controlled immediately, it shifts to nearby farms depending on the direction the wind is blowing.
The farmers demanded that chemicals to control brown plant hopper should be provided at subsidised rates as was being given for the treatment of yellow rust.
Agriculture officer Gurmail Singh said that they were receiving reports about brown plant hopper attacks in various parts of the district. He said surveys were being conducted in the district after which they would suggest steps to the farmers for controlling the attack.
Top News
Government seeks time from Governor for oath-taking ceremony...
Hand over medals to BKU chief
Locals, CRPF and police personnel rush to the spot and launc...
Home minister is currently visiting Manipur as part of effor...
Sahil had bought knife used in the crime from Haridwar aroun...