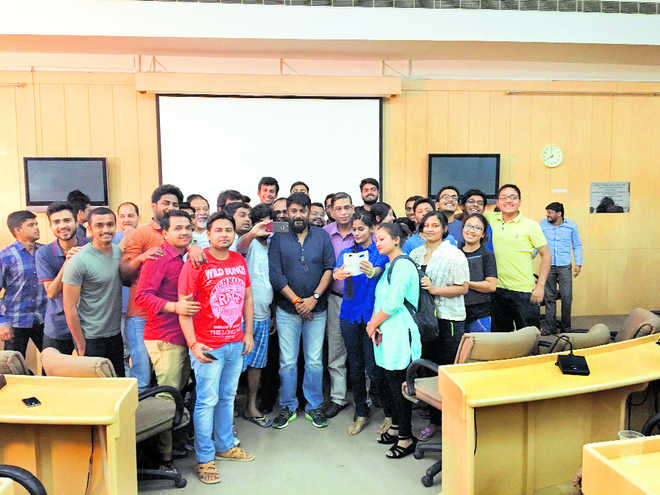 Finally, 'Buddha' smiled on Friday the 13th for director Vivek Agnihotri and his team. For four years 'Buddha in a Traffic Jam' remained stuck in controversies. What makes its recent journey to the cinema halls so interesting is its palpitating narrative that passed through JNU campus on March 15 and Jadhavpur University on May 7. There were 26 screenings in between including at IITs, IIMs, Indian Institute of Science (Bangalore), DU, BHU and the politically explosive Osmania and Allahabad universities. What's in it?
The film is certified by the Censor Board for adult viewing. Its screening ran into troubled waters in campuses where ability to reason is expected to accompany adulthood. At PU, Chandigarh, a student tells the director he should not have used 'sex scenes' so graphically. Obviously, there were protests, sabotages, cancellations, attacks and the recent scuffle between two student groups at Jadhavpur.
Director, Vivek Agnihotri with his two assistants has travelled for over 60 days, spending sleepless nights witnessing debates between two Indias — of the Right and Left. Unlike other films based on campus life, 'Buddha in a Traffic Jam' hits hard at the intellectual dishonesty of faculty operating in a system that compromises excellence to promote mediocrity. Politicians are absent from the narrative; replaced by political ideologues of the extreme Left working as faculty, as a few students get stuck -- in the traffic jam of ideas and principles.
(Follow The Tribune on Facebook; and Twitter @thetribunechd)
The film's campus journey began after JNU's School of Art and Ethics did not entertain the request for its screening. It was watched by over 4,500 students in the open nonetheless. "No film director worth his salt would show his film in daylight and in the open, especially after the film has won so many laurels. I agreed to show when a student said he would organise the screening," says Agnihotri.
The film is a first-of-its-kind experiment and is co-produced by the students of Indian School of Business, Hyderabad, with director Agnihotri also working as part producer. Agnihotri was initially invited for lectures on 'creativity' in business management in 2011 at ISB. Made with participation of students, it pre-scripts social concerns and responsibilities of future CEOs. All 570 future business leaders studying at ISB then played a vital role in conceiving the situations and writing dialogues. They could not find a distributor though.
Screening it on the campuses was a logical step. It had won laurels; Best Actor (Pallavi Joshi) at Mumbai International Film Festival, Best Original Screenplay at Madrid Film Festival, Spain, and Best Director at Jakarta Film Festival, and a dozen other screenings at reputed festivals. That the distributors found it 'unsafe' is due to the theme of the film.
Produced in 2011-12, the uncanny similarity it bears with the political developments taking place across campuses in 2016, led to heated debates around its theme, polarising student communities to the right and left wings. Whether planned or coincidental, the screening of the film and the hysteria caused after the arrest of Kanhaiya Kumar make the film more contemporary.
The film opens in chapters; the first one is "I'm a Bitch" and recreates the attack of moral police brigade on Manglore pub girls. Students counter it by starting 'Pink Bra' campaign in the film. Subsequent chapters expose the alleged nexus between the Naxals, NGOs, academia and the intelligentsia and investigate how certain universities brainwash students to become intellectual terrorists. More than the film, it's the debates that follow the screening, making a strong statement on the student-faculty relationship. Most students I speak with do so under condition of anonymity.
"IIT Madras, has many departments with concentration of faculty that openly professes leftist ideology; we are expected to toe the line. The faculty selection is based on political leanings. How else could they revoke ban on APSC (Ambedkar Periyar Study Circle), an inside survey had proved 70 percent students wanted it banned. The social media pages of Chintabar and APSC openly support terrorists, isn't it sedition? Chintabar organised screening of documentary "Fabricated" inside the campus supporting Abdul Nasar, a convict of 1998 Coimbatore blast and prime accused of 2008 Bangalore serial blast case. They distribute pamphlets in support of Afzal Guru. We find a connect in the film; we see it happen at IITM," says a student. "It seems our contribution to technology and innovation doesn't make us intellectuals, only Kanhaiya Kumars and others from JNU alone can run this country! What about the scientists of Mission Mars, are they not intellectuals?" Thus comments a student from IIS.
An average student may not relate to the layered issue of Naxalism, dealt rather simplistically in the film, he certainly identifies with the hero Vikram Pandit (Arunoday Singh); his innovative ideas and zeal to rebel against the faculty and the system at large. "Like Vikram, we are able to see the nexus operating between so-called NGOs, the extreme leftist political ideologues — faculty -- who spot talent, influence our mind and create new cult figures," comments a DU student.
In the climax scene, when one expects the hero might be pulling out a gun, he pulls out an IPad, which has the blueprint for wiping out the middlemen from the system to help the poor Bastar adivasis. But his professor wants to have him killed for putting his political interest in jeopardy.
"You talk of breaking stereotypes, why it has to be always a boy who picks up the gun or an IPad to change the system, why not a girl? Asks a girl from BHU, Agnihotri had no answer.