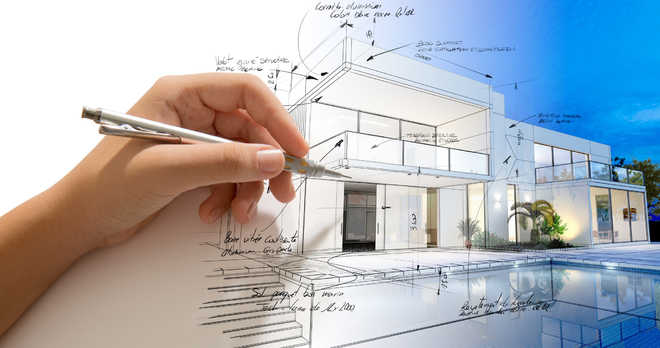 Pappal Suneja
The last decade has seen the increasing footprint of technology in architectural designs and the stress has been on 'attraction-oriented' building designs. One can see a profusion of buildings that are nothing more than clones being built without considering the structural implications.
However, in 2018 a change was observed in this with sustanability, optimum utilisation of space, open designs getting more prominence in the residential as well as in office spaces across the country. Here are some of the elements which were in the limelight in 2018:
Learning from nature
Modern building designs are increasingly incorporating Nature in the living spaces. There is awareness that the five elements — light, sound, earth, sky, and water — need to be made a part of the design. Using raw finishes and materials like bamboo, unpolished stone surfaces etc are some of the elements that highlight the "close to Nature" trend. The use of curvilinear facades has also entered mainstream architecture. The curve and circles in this realm are designed to maximise the use of daylight and available space on the compacted sites and integrate seamlessly into the backdrop.
There has also been a comeback of completely circular structures. This trend of buildings is inspired from indigenous architectural styles from across the globe such as bhunga houses of Gujarat and generically others like yurts, wooden cabins, and igloos, that were deliberately kept round in shape to save energy, resources and time.
Use of open-spaces
The year 2018 has endorsed open-space design with multi-functional activities promoting merging of cooking, entertainment and living spaces etc. Architects are becoming progressively conscious of specifying the various segments of these open spaces in order to designate the diverse living or working zones. In order to achieve this, architects incorporate transforming floor levels, an evolution in the surface colours and textures, sitting islands, furniture bunching, and lighting to add visual attraction and an organisation to space.
There is another component of the open-space designs, which is to live outside the house. In this the boundaries have started dissolving inside the house with outdoor living spaces, terrace kitchens, fireplaces in the backyards etc. The lighting fixtures of these spaces are being hung from trees, resting on sitting islands or are tied to the ground.
Prep kitchens
In order to reduce mess and clutter, people have started using a separate space for prepping up for food, dishwashing, garbage collection and appliance use. This is popularly known as the prep kitchen. This not only enables a stress-free work environment, but the guests and family can also be given more attention. The minimal design of the kitchen area is the prime motivation of this architectural trend and with this the food prep activities can take place out of sight.
Eco-friendly designs
The use of AAC (Autoclaved Aerated Concrete) blocks for buildings became more pronounced in 2018. These are hollow concrete blocks that are an alternative to kiln-burnt bricks help prevent soil erosion (as the regular bricks use a proportion of the top layer of soil), besides helping in quality control.
According to Husain Johar, "You will see a considerable measure of vertical gardens and green housetops in 2019. Furthermore, structures will become greener within by fusing indoor green stops and green dividers. Since 2018 has seen the utilisation of recyclable materials for development, 2019 will go with the same pattern. The reuse of materials emerges as an inventive idea which was exceedingly successful. Solid, metals, glass, block and plastics would all be able to be made utilizing some type of the recently utilised material".
Further, ASSOCHAM's GEM (Green and Eco-friendly Movement) for sustainability certification programme aims at newly devised methods to avoid tedious calculations.
Bamboo as a substitute
According to Husain Johar, Founder and Creative Head, makemyhouse.com, " The increasing demand for high speed, superior quality and cost effective construction had led to the development of this substitute and will continue to be incorporated in various designs in future because of its simple texture. It tends to add nature's touch to the surroundings, which will make it highly acceptable in the coming year as well".
Tiny houses
Optimum utilisation of space has become important due to skyrocketing land prices, hence the stress on tiny houses. This not only enables a better sense of belonging but also reduces the maintenance time. This trend is also bringing a change at the societal level as it promotes shared community services. The key features of a small design include proper use of vertical spaces, multi-functional furniture, dual-purpose features, and equipment. For developing nations like India, this movement is definitely a boon for providing shelter to one and all. "We have seen a trend in market in which material vendors are working hand in hand with designers and architects to provide hassle free and extra spacious houses in limited space, budget and time. And these ideas will surely going to gain pace in near future. Time is near where we all will be designing our tiny houses, and it's not a bad idea", says Husain Johar, Founder and Creative Head, Makemyhouse.com
— The writer is an architect based in Lonawala
Top News
The nasal vaccine—BBV154 -- had received DCGI approval in No...
Egypt's President Abdel Fattah al-Sisi is the chief guest at...
Announcement was made by Adviser to the UT Administrator Dha...
It reflects the 'myopic' mindset of those in power at the Ce...
In the last year, more than 70,000 people globally have been...