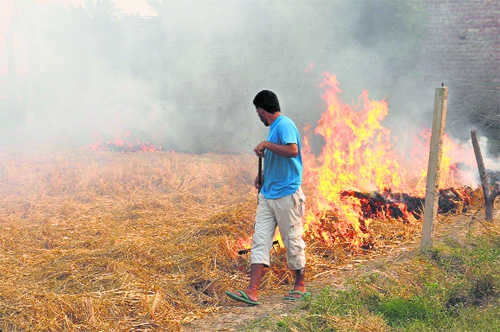 Tribune News Service
Fatehabad, April 8
The district authorities of Fatehabad have issued prohibitory orders banning the burning of wheat stubble in fields after harvesting the wheat crop.
Fatehabad District Magistrate NK Solanki today issued the prohibitory orders under section 144 of the Criminal Procedure Code banning the burning of wheat straw.
The orders state that violation of the orders shall attract action under section 188 of the Indian Penal Code (IPC) and also under the provisions of the Air (Prevention and Control of Pollution) Act 1981.
Although the authorities ban this every year, burning of wheat stubble on agriculture fields after harvesting of crop continues with impunity throughout the state.
Stubble burning is not only injurious to human health due to environmental hazards involved with it, the process is also harmful for the farmers as several environment-friendly pests that save crops from harmful pests, also get burnt in the fire.
The Punjab and Haryana High Court, in a civil writ petition CWP- 10138 of 2006, Captain Sarbjeet Singh verses State of Punjab and others, regarding non-burning of wheat stubble, paddy straw and dry fallen leaves, had directed the state government to take immediate remedial measures to stop burning of wheat /paddy stubble in the fields.
The Haryana State Pollution Control Board (HSPCB), which is duty bound to check the practice and prosecute the violating farmers, hardly does anything in this direction.
Top News
Also speaks about his associates who have been sent to Assam...
Counting of votes will take place on May 13
Petitioner sought more time from the court for producing evi...
Faizal, who represents Lakshadweep, had moved the Kerala Hig...