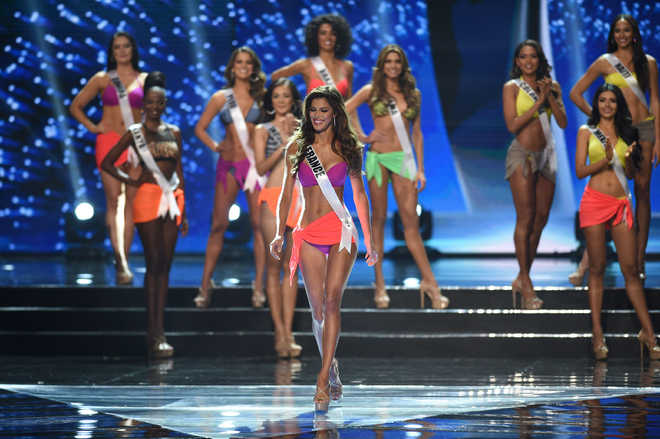 Purnima Sharma
First, it was Miss World. Now, Miss America is following suit and telling its contestants not to pack in bikinis for the contest. Come 2019, and this controversial round of the pageant will be scrapped, as is being deduced, in a bid to end sexism.
It was earlier this month that Gretchen Carlson, new chairperson of the Miss America Organisation, announced on ABC's Good Morning America, "We will no longer judge our candidates on their outward physical appearance.... This means, we will no longer have a swimsuit competition round."
Needless to say, the social media has been up in arms against the very idea. Using the hashtag #byebyebikini, one of its users called it a "bad move", saying that the swimsuit round was never about looks but about proving that young women can be dedicated to a healthy lifestyle. However, those on the other side of the fence are giving the decision a clear thumbs up. "Women are more than their bodies and, little by little, society is redefining that precedent." Another one said if "there's no swimsuit round, maybe I'll enter it."
Facing criticism, right from the time Miss America was started in 1921, for reinforcing body stereotypes and unrealistic beauty standards, this is clearly one of the aims of the "competition" — as it will be referred to in 2019. "We have heard from a lot of young women who say, "We'd love to be a part of your contest, but we don't want to be out there in high heels and a swimsuit. Guess what? You don't have to do that anymore. You're welcome. Please come join us," Carlson added.
Agreeing with the competition's new guide, filmmaker Madhur Bhandarkar says, "Beauty contests must not restrict themselves to judging not only physical looks but be an all-round personality contest."
The maker of films like Fashion, Heroine and Calendar Girls says the Bikini round is restrictive and keeps many aspirants away. "Banning it will put the spotlight on the complete personality of the woman. This is a must in this era of women empowerment when they are judged not on the basis of their looks alone but capabilities as well."
When Diana Vreeland, noted fashion columnist of the last century, called bikini "the most important thing since the atom bomb", feminists must have been far from amused. But they must be having the last laugh now. The move will make Miss America more inclusive and bring about a discernible change in the tenor of beauty contests, saysSathya Saran, author of the recently published How to Look Like Miss India.
So when organisers of the competition decided to bid adieu to the bikini, it made headlines. What could be the reason for this? "Could it be the aftermath of the #MeToo campaign," wonders Saran. "Why have something that objectifies women and then complain about what is happening?"
Even though the bikini in most western countries is no big deal, it is still looked at as a garment that focuses just on the physical attributes of a woman. "Why not move to the next level is what the people there must have thought. In any case, the era of beauty contests is going downhill," asserts Saran.
Despite Carlson's insistence on Miss America providing scholarships and honouring talent, ad guru Prahlad Kakkar is not impressed. "The bikini or the swimwear round should be an integral part of a beauty contest. After all, what is a beauty contest? It is one that judges you on the basis of a good face, body and brains. And the bikini round judges your fitness levels," he asserts.
And for those who object to this, Kakkar has a rejoinder: "Participate in the Spelling Bee or other such competitions!" The jury is still out on this one....
How it all began
For the Miss America contest, which had the bikini round right from its inception 97 years ago, "the decision is phenomenal. Even though we, in India, had always maintained that the contest is not about beauty alone, for Miss America that was the focus," says Sathya Saran, who was part of the core team of the Femina Miss India Contest for several years.
Saran, former editor of Femina, is happy that Miss America will now focus more on a contestant's personality, IQ levels and expertise in her area of work than just looks alone. Talking about this round in the Miss India pageants, she says it was introduced after Madhu Sapre came back from the Miss Universe contest in 1992 with the 2nd runner-up title. "She told us that a lot of focus was placed on the fitness levels of the contestants. To make our girls compete effectively on that score — in the face of stiff international competition — we introduced it here as well," says Saran. But, of course, although swimwear did first make an appearance on the ramp, the round was moved to in-camera, and then organised only at private resorts with entry given to a few camerapersons.
QUEENSPEAK
Former beauty queen Ruchitra Malhotra Makhni feels that undue weightage is given to the question-answer round in beauty contests. Winner of the Miss India-Asia Pacific and Miss Asia Pacific 1st runners-up 1995 says, "I have always found answers in these rounds very rehearsed and predictable". "A beauty contest is a beauty contest — and it must be left that way with the swimsuit round being an integral part of it. I don't see any reason to ban it," she adds.
Naina Balsaver, Miss India 1976, thinks otherwise. "Even though I am far from conservative, I feel they should do away with the swimwear round," she says. "It's high time the focus should shift from the body to the brain, what are the contestant's dreams and plans for the future. Let them feel empowered the right way as they inspire others."
Top News
The network, which operated in the darknet and used cryptocu...
Railway Board has recommended for Central Bureau of Investig...
Amid pro-Khalistan sloganeering, the 39th anniversary of Ope...
Focus on ways to expand bilateral defence and strategic ties
Officials said police are collecting evidence in connection ...