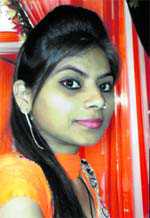 Tribune News Service
Chandigarh, February 9
Pooja, a 26-year-old Ram Darbar resident, gave a new lease of life to three ailing patients at the PGI after her death as her family decided to donate her kidneys and liver.
"After the decision to donate organs of my dear daughter, I feel she is somewhere around us," said a grief-stricken Bala Devi, mother of the deceased.
It was on the fateful day of February 6 that Bala Devi received the tragic news of her daughter Pooja being grievously injured in a hit-and-run case while going on her two-wheeler. The family immediately rushed Pooja to a nearby hospital in Mohali from where she was referred to the PGI and admitted the same day. However, Pooja was declared brain dead on February 7.
Bala Devi, a widow who raised her children facing the odds of life, is still in a shock, failing to come to terms with the reality of her daughter being no more. She said, "You know how difficult it is to raise a family after the demise of one's husband. My children and I have been through enough. How could life cheat us yet again? There is no greater pain than losing your child, that too at such a prime age."
After the brain death declaration, the family, when counselled by the transplant coordinators of the PGI, consented for organ donation of the deceased. Following this, the doctors went ahead with the retrieval of the liver and kidneys. Three persons — one patient suffering from end-stage liver failure and two kidney patients — underwent successful transplants within 24 hours of the decision.
Talking about their courageous step of organ donation, Sulekh and Aarti, mournful but proud siblings of Pooja, said, "It was the toughest decision. What helped us take a call was that she could live on through other people. Hopefully, our decision for organ donation will help some other families turn lucky and save them from the pain and trauma of losing their family members, with which we will live till our last breath. This will be our biggest tribute to our dear sister."
Dr AK Gupta, medical superintendent (MS), PGI, expressing gratefulness to the brave heart family, said, "Such families not only give ailing organ failure patients a fresh lease of life in the face of own tragedy but motive others in their situation to follow in their footsteps."
Dr Gupta said it was heartening to see that people were coming forward for the noble cause. "The credit goes to my ROTTO team, which is the best performing ROTTO in the country," said the MS.