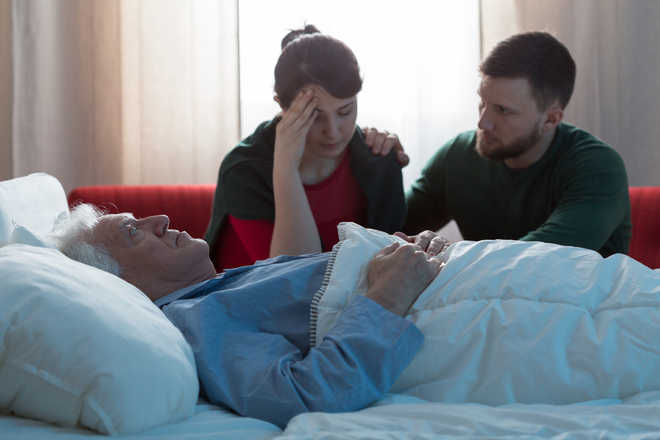 Dr M Udaya Kumar Maiya
Despite a beneficial demographic dividend, the number of ageing is rising in India. Even globally, statistics indicate that the elderly population is expected to more than double to 2 billion by 2050. In India, from 8 per cent in 2015 to 19 per cent in 2050, the percentage of elderly people is also expected to rise. Translated in numbers, the country faces a huge challenge in taking care of such a large ageing population. And the number is set to grow three-fold from around 104 million at present to 300 million by 2050. A vast majority of them are both sick and financially dependent and need constant care. And that means an equal need for number of caregivers.
Because despite availability of various amenities and medical help, the elderly still require assistance in performing activities of daily living. Often, it is people within the family, especially in India, who take on care-giving responsibilities of the elderly. These include helping around the house, assisting the elderly with their daily activities, being an emotional support for them, and even managing treatment and dealing with end-of-life issues.
All these activities that are required 24/7 can often take a toll on the caregiver: physically and mentally. Research suggests that the physical and even emotional demands of care-giving, stress and other factors can put them at a significant risk for various health issues such as high cholesterol and blood pressure. They also experience a decline in the quality of life and lack sleep and appetite. About 46 per cent to 59 per cent of them succumb to clinical depression over time.
Care-giving is nothing short of an emotional rollercoaster and therefore, it is imperative caregivers follow certain basic tips that can help them avoid potential health problems.
Caring for the elderly is a full-time task and that exhaustion can reduce your body's ability to ward off illness and infection.
Look out for support from similar families and understand that you are not alone. Form a social circle with other caregivers so that you can share your concerns and get some tips. Pay attention to your physical and emotional health to avoid a possible burnout. Some ways to do this are by consuming a balanced diet, engaging in regular physical activity, keeping your vitals under check, taking time off for your own self, and watching out for any signs of depression.
Take a break when you feel the need. This can be planned or otherwise; at home or elsewhere. This will give you the much-needed rest, help you recharge, and also make you understand that there are other things in life you need to pay attention to.
Accept help from others. Doing everything on your own can become overwhelming and therefore it is okay to ask for help at times. Understand that one cannot accomplish everything alone.
Watch out for any signs of depression and visit a specialist at the earliest. Caring for an elderly, especially someone with a chronic illness, can give rise to feelings of despair and disappointment over time. Headaches, back pain, and fatigue are all indications of a larger issue and must be addressed.
Organise medical information, documents etc. Keep information such as the patient's medical history, medication list, insurance information, and legal documents in order so that these are easily available in case the need arises. This will help you avoid any panic attacks when there is a need to access the documents.
Take the help of technology. There are several apps available today that can help you track certain basic tasks and organise them better. Technology also helps you stay in touch with the family when you are not around and find relevant information when required.
Last but not the least, give yourself credit. Being a caregiver is one of the toughest jobs and something that requires immense patience, sacrifices, and perseverance. Understanding this will make the work a little better. While struggles and strife may be one part of managing home and your responsibilities as a caregiver, the other part is the fact that your loved ones appreciate the help. It is important to remember that you will only leave behind wonderful memories and a bond which will last long after the elderly are gone.
— The writer is medical director, Portea Medical, Bengaluru