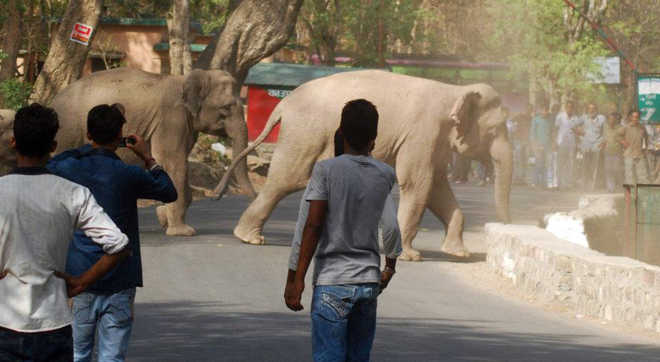 Jotirmay Thapliyal
Tribune News Service
Dehradun, September 19
The man-elephant conflict has turned worst in Uttarakhand. The situation has come to such a pass that elephants for the first have started venturing into downtown Dehradun.
Only yesterday night, elephants were seen at just a kilometer of aerial distance from the state Assembly. Elephants reached the busy Ring road close to the state assembly, a scenario never seen before. Fortunately, there was no human causality and the elephants only resorted to mild vandalism. Village areas like Balawala, Natuwawala and Nakronda on the outskirts of Dehradun city have experienced elephant menace for long but it for the first time that elephant reached the Pulya number six landmark of Ring road that houses some prominent offices of the state like state information and public relations directorate, Kisan Bhawan and state election commission offices.
A few persons were injured in elephant attack incidents in the neighbouring Haridwar district. The incident happened near Rajaji Tiger Reserve close to the BHEL residential colony.
During early morning hours today, elephants attacked slum dwellers, who had gone to nearly forests to relive themselves. Three of the slum dwellers identified as Hari, Sunil and Ashwani were injured. The trio was admitted to Haridwar district hospital for treatment where condition of one is stated to be serious.
In another incident on the same evening, elephant came out into Lakshmjhula Kandi highway and disrupted the traffic movement. The elephants also overturned some vehicles, though inmates of the vehicles managed to flee.
Significantly, population of elephants is on the rise in Uttarakhand due to conservation efforts. There are a total of 1797 elephants in Uttarakhand as per latest 2015 census report whereas in 2012 census that the state had recorded 1559 elephants.
Senior forest official and wildlife expert Saket Badola admitted that incidents of elephant venturing into human habitations have been on the rise in the state in recent times. "But then we have to understood that it is the humans that have encroached upon traditional elephant pathways blocking their corridors resulting in conflicts", Saket Badola observed.
Top News
Leader of Opposition Devendra Fadnavis is now expected to ta...
He first took over as the acting president and party chief a...
Says no corrupt will be spared even if he joins any affluent...
"The gangster is being given the status of VVIP.  It is bein...
After delaying their departure by around two hours, the diss...