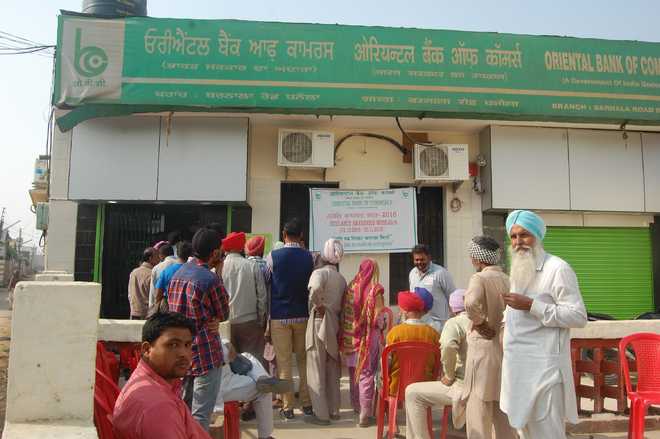 Vishav Bharti
Tribune News Service
Dhanaula/Barnala, Nov 20
It is for Rs1,500 that Pal Singh has been standing in the queue for two hours. He is a daily-wager and earns Rs 300 a day.
At 11 am, a branch of the Oriental Bank of Commerce (OBC) on NH64 in Dhanaula is yet to receive cash. The queue is getting longer and people are getting restless. Pal Singh's day is already lost and so is his dihari. He will take Rs1,500 home at the cost of Rs300 he earns daily.
Demonitisation is pinching this strata of society the most, where money pays for bare minimum sustenance.
Of Rs1,500, Pal Singh will pay Rs1,000 towards his credit liability. The rest will be spent on ration. He doesn't operate an ATM, but his sons do. "What will they do? There is no money in the ATMs," he says.
Pal Singh's story is not just his alone. It holds true for everybody. There are around 10 ATMs in the town, but only one dispenses money and that, too, goes out of cash within two hours. The situation is not much different in cities such as Barnala, where around 30 ATMs are installed. None of them dispenses cash.
"When an ATM is loaded with cash, the news spreads like wildfire. Within seconds long queues come up. I saw one such queue outside Axis Bank. Cash lasted for just an hour and I had to return empty-handed," says Lalit Kumar, a BJP leader from Barnala.
Serpentine queues are a common feature outside banks on NH64; only names of villages and banks change: Channo, Bhawanigarh, Badrukhan.
Labourers bearing brunt
It is not even 9 am on Saturday. At Nandpur Kesho in Patiala, around 50 people have queued up outside a bank branch located on the highway. From people's faces and attire, one can make out that most of them are either farmers or labourers.
"Show me a single shahookar or sardaar standing in this queue," a little agitated Gurnam Singh says.
Standing in a queue outside an OBC branch on NH64 in Dhanaula, he alleges the branch manager is giving people Rs3,000 from their accounts, but helping the rich on the phone.
On Friday, Gurnam, a farmer, got Rs3,000. When he reached home, his granddaughter was all jubilant, expecting to see the Rs2,000 note. "I told her that I have spent the entire money."
The man says he couldn't muster the courage to tell the young girl that the money was returned to those from whom he had borrowed.
Today, Gurnam is in dire need of money. He had borrowed money from a friend for two hours as his daughter-in-law had to visit a doctor in nearby Barnala. "I have committed that I will return money by afternoon," he says.
Banking on social relations
In small towns and cities, the only hope in the time of cashless economy are social relations which are still intact. We trace school principal Sonu Rani at a private nursing home, where her son has been operated upon after an accident on November 16. When she rushed to hospital, she had around Rs5,000 in Rs100 notes at home. The doctor was nice to her, as he accepted some old notes, Rani says.
But not all are lucky. Jagraj Singh, a daily-wage labourer from Pakho-Ke village, was taken to Barnala's Civil Hospital for his crushed foot. "The hospital refused to accept old notes," he claims. When his family couldn't arrange new ones, he was referred to Patiala. Taking him to Patiala meant foregoing daily earnings, so he was admitted to the nursing home in Barnala. Treatment at private hospital means more money.
Wedding tunes muted
Apart from medical emergencies, weddings are the most hit. For the past 10 days, Ajaib Singh — a farmer who owns 10 acres along with his father — is visiting several banks with a wedding card of his sister. The marriage palace was booked for December 4 long back after paying a little advance.
"When I requested the bank manager for cash, he first refused to give more than Rs2,000. After persuasion, he agreed to give not more than Rs10,000," Ajaib says.
A money lender helped him out to some extent. He gave Ajaib Rs50,000. "We have to give Rs6 lakh at the wedding," Ajaib says. There seems to be no hope.
Top News
Police say report on wrestlers' allegations to be submitted ...
The protesting wrestlers will not attend the congregation
Says the CM is protected at both these places by the Punjab ...
Were arrested after a brief encounter in Kharar in the wee h...
Based on the FIR, it is revealed that his daughter had been ...