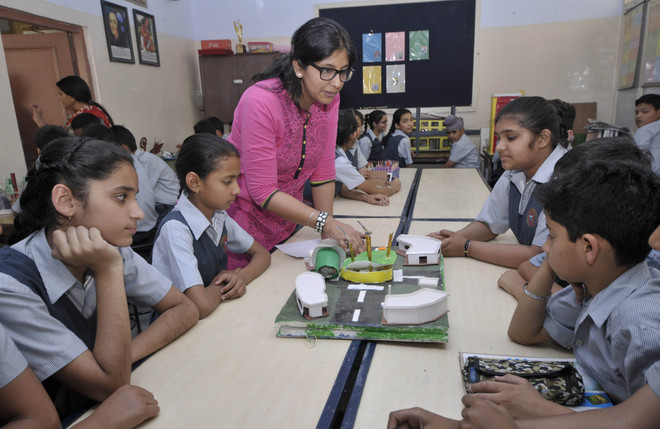 Vibha Sharma
THE Continuous and Comprehensive Evaluation System was introduced by the Central Board of Secondary Education in 2009 along with the enactment of the Right to Education Act. The main objective of the new evaluation system was to shift the focus from 'just academics' to holistic development of students and to reduce the burden of exams on students. In accordance with the system, students appear for six exams during one academic year, including four formative and two summative assessments. In addition to that, students are expected to show their mettle in various projects, assignments, activities and events spread over the academic session. More than five years into the system now, the system is facing enough flak from all those impacted by its implementation. While it began with the objective to reduce the workload and the phobia of exams, it seems, in reality, the same has been spread across almost every week of the school year.
Assessments galore
In its present state, our education system has primarily been reduced to an assessment-driven education where we assume that students need to be goaded with the stick of evaluation to make their learning complete. How else can one explain almost 30 per cent of working days dedicated to testing them in some form or the other? There are Summative Assessments, Formative Assessments, there are class tests, then thereare revision tests for these tests, there are some more oral tests, their speaking is tested, their reading is tested, their social skills are tested. The list is actually endless. Practically, how many teaching and learning hours this schedule leaves one with? Moreover, with tests galore in a student's life,the seriousness that a test earlier warranted, has gone completely. Perhaps, rightly so because, is it justified to expect a student to be performing at his/her best all the time?
Some students feel the stress has increased manifolds while it also encourages 'copy paste' and 'laid-back attitude' in many. Shruti, a Class X student, says, "Quantum of things have increased but the quality in each activity is highly compromised." Earlier, the board exams enjoyed a unique reverence but now the same have been reduced to just another school tests and are not taken up seriously. But the students are expected to switch gears all of a sudden post-Class X when they are thrown in the open for supposedly the biggest competition of their lives. There are many who point out the unfairness of the system as well, as CCE puts both bright and average students in the same category. As such there is no incentive for the brilliant and no way to reward persistence and hard work.
More numbers, less substance
More co-curricular activities, projects, assignments, etc., that have been introduced in order to enhance learning, in itself is a great idea. But too many of these have left the students and teachers with no time to strengthen the foundation. If a student wants to dedicate even one week to a particular topic to understand it thoroughly, he/she simply cannot do so. There would be some test, some project report that would keep vying for his/her attention. So learning at one's own pace, learning to understand — is only a dream.
Schools in the North are worst affected. After the end of one academic session, the students have hardly 2-3 weeks' off and then the new session begins. Not even two weeks into the new session and FA date sheets are given or weekly tests begin. Teachers and students struggle to cover even the first two chapters — the syllabus for the first FA. While this is going on, other activities are also on. Two more weeks and summer break begins but that break is not for the students to enjoy. Holiday homework is piled on them along with a Damocles' sword of another FA after the vacation followed by first SA. Perhaps the idea with which CCE was introduced did not see the probable pitfalls on the way. So it may have been an attractive proposition on paper but not so practical. It is leaving students with shallower knowledge and their natural quest to learn — curbed for life.