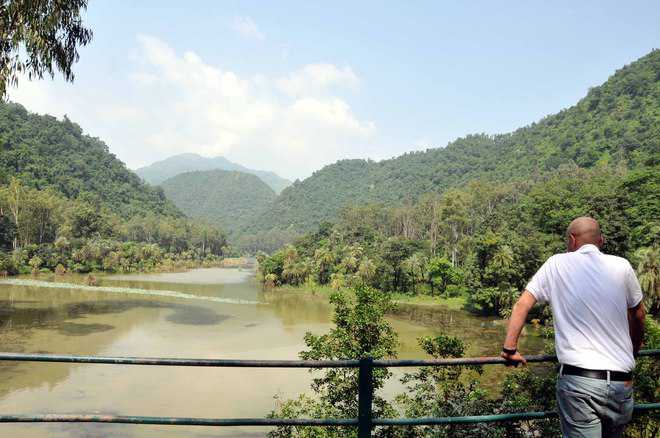 Kuldeep Chauhan
Tribune News Service
Shimla, October 13
After hanging fire for 22 years, the 175-m-high Renukaji Dam has finally set to see the light of day as the Ministry of Water Resources has released Rs 446. 96 crore to Himachal that will enable HP Power Corporation Ltd (HPPCL) to pay land award to dam oustees.
Though Himachal had demanded Rs 1,981.35 crore as an immediate assistance to expedite the land acquisition process and give awards to the project-affected villages, the Centre has released Rs 446. 96 crore early this month, saying, "The rest of amount will be released after the Niti Aayog gives its clearance to the project."
The ministry has released this amount to Himachal asking the state government to release it to the HPPCL within 15 days.
The HPPCL has appointed the Chief Engineer, Renukaji Dam, to expedite the payment of land award to the oustees whose land measuring about 1,130 hectares has been acquired over the years.
All clearances have been given for the project as far as Himachal is concerned, said HPPCL managing director HK Sharma. Even the state committee, headed by Principal Chief Conservator of Forests, had constituted by the National Green Tribunal (NGT) to assess the status of the project, had submitted its report to the NGT and nothing is pending on the part of Himachal, he pointed out.
The Renukaji Dam on the Giri river in Sirmaur will supply 23 cumecs of water to Delhi. It will store 49,800 ha m of water in which Himachal will get 40 mw power while water will be distributed among Delhi, Haryana, Rajasthan, Uttar Pradesh.
The cost of project has already shot up from Rs 3,572 crore in 1994 to Rs 6,000 crore in 2016 as the project remained in deep freeze for the last 22 years. As per agreement, the Centre has to give 90 per cent funds while 10 per cent share would be paid equally by five beneficiary states.
Top News
Public has returned Rs 3.42 lakh crore or 96 per cent of the...
This comes amid a diplomatic row between India and Canada ov...
Doraiswami was on Friday stopped by a few radicals from ente...
Was speaking to Indian journalists in Washington
Rinda died due to alleged drug overdose at a military hospit...