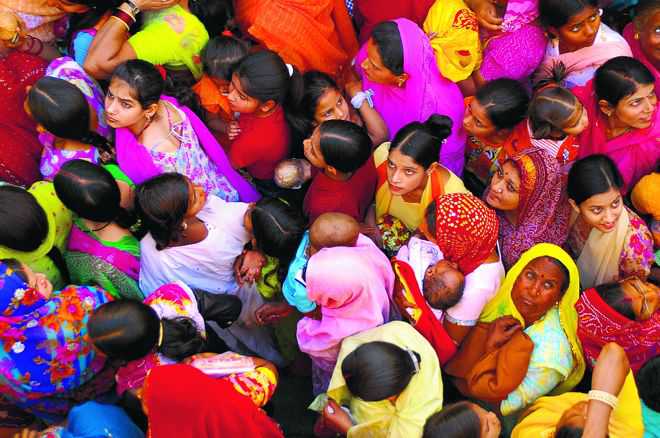 Vishav Bharti in Chandigarh
The sunset over 'Lahore Durbar' was still fresh in the memory when a shocked young deputy commissioner of Gurdaspur district, Major E Lake, wrote to his government in 1851: "The practice of killing newborn girls is not just prevalent among the Rajputs, but among the Sikhs too."
When the British administration started taking action to curb the practice, a delegation of Bedi Sikhs, who claimed their lineage to Guru Nanak Dev's family, approached the commissioner of 'Jullundur Doab', John Lawrence, with a petition to allow them to bury their newborn girls alive. The rationale was that the Bedis belonged to the highest caste and could not marry off their girls into any other caste, and that they had been doing it for four centuries. Lawrence, a tough administrator and reformer, was already appalled to see not even a single girl child among the 2,000 Bedi families in his division. He warned them against the practice and reminded them that their religion did not allow it. "It will be considered murder. I will hang each one of you found involved in female infanticide." This practice was prevalent among the Hindu Khatris as well.
The census of 1854 confirmed Lawrence's fears: The number of women was recorded at 837 for 1,000 men in Punjab. Looking at the situation, the British administration called a meeting of leaders from all religions in Amritsar on Diwali exactly 165 years ago. It was the first organised intervention to curb the murderous practice. From Lawrence to Capt Amarinder Singh, Punjab and its leaders have been struggling to curb the practice. The child sex ratio (0-6 years) is worse than what it was 50 years back (see box). What makes the situation especially grim for Punjab today is that it has become a safe haven for 'girl killers' from the neighbouring states, who throng it for getting sex determination tests done. The ultrasound centres involved in illegal activities are not just hampering Punjab's PNDT programme, but have also affected the implementation in neighbouring states. So much so that in the past three years, Haryana has conducted 31 raids inside Punjab's borders and Rajasthan has conducted six. Punjab's own record, however, remains dismal. A few years back, Punjab had hired a detective agency to conduct sting operations on the ultrasound centers involved in sex determination. But the state could manage seven such raids only and failed to pursue many of these cases in the court.
On the other hand, in pursuance of its slogan of Beti Bachao, Beti Padhao, Haryana has been actively involved in fighting female foeticide. It has written to the Punjab authorities on several occasions complaining about its local health officials' attempts at sabotaging their operations through non-cooperation. Haryana Chief Minister ML Khattar had even tweeted to Punjab CM seeking his cooperation on the issue. The most recent such incident occurred last month when a team from Ambala district of Haryana wanted to raid an ultrasound centre in Jalandhar. The civil surgeon not only refused to cooperate, but asked Haryana officials to share the confidential information about the centre in question. Haryana's health department has lodged an official complaint in this case.
The spate of raids has left Punjab health minister Brahm Mohindra worried. He expressed his concern at a recent meeting of civil surgeons and demanded to know why the officials here are clueless whereas the neighbouring states are conducting raid after raid.
However, insiders say that in almost every district, the fee for not bothering ultrasound centres with inspections has been fixed. A senior health functionary, preferring anonymity, says that when he was posted as a senior medical officer in a district near Chandigarh around five years back, they would collect Rs 10,000 per month from each of the five ultrasound centres falling in that sub-division. "The money collected would be sent to the civil surgeon's office," he says, adding not much has changed in the ensuing years.
Dr Harshinder Kaur, associate professor, department of paediatrics, Government Medical College, Patiala, has been an active campaigner against female foeticide. She feels that while foeticide continues unabated, there has been a change in people's attitudes. "Around 25 years back, people in rural areas were so open about killing their daughters, they would not mind showing the places where foetuses were dumped. But today they are afraid of sharing the same." However, she rues not much has been done to eradicate the menace. She quotes a WHO report which claims that illegal sex determination industry has grown to Rs 1,000 crore in India. "Punjab has a significant share in this," she says. That is why, even as 'tall claims' are made about improved sex ratios, and questions loom over fudged figures, a WhatsApp message popped up in a community group of traders in a small town in Punjab last month: "On the evening of September 20, another girl was born in an Aggarwal family in Rampura (Bathinda), while they already have three girls. Only Aggarwals interested in adoption may contact." The quest for boy still continues and it will, as long as patriarchy lives.
When a sealed ultrasound machine was sold off
Acting on a tip off, on September 16, 2016, health officials raided the premises of a private dentist in Makhu town of Punjab, who was involved in the business of sex determination. A decade back, a centre running in the same premises was sealed on the directions of the then health minister Lakshmi Kanta Chawla after a woman from Tarn Taran claimed that she had got her test done there. The ultrasound machine involved in illegal act was sealed and was made a case property. As per the legal provisions under the Code of Criminal Procedure, the possession of the machine should have been with civil surgeon. However, the sealed ultrasound machine was swiftly sold off by the centre. "It is just like a murder weapon in police custody being sold off," says a senior health official. Two years after the incident, the health department has finally woken up and the Additional Chief Secretary, Health, has recommended action against the civil surgeon responsible for the act. The civil surgeon, however, retired more than a year back.
How do they operate?
Insiders say that the rate for illegal sex determination test in Punjab is anywhere between Rs 15,000 to Rs 25,000. At least 50 per cent of this goes to the tout, who get patients through midwives, quacks and even BAMS doctors in some cases. They gather patients and then take them to the centre the same day. Interestingly, many a times the touts don't actually get sex determination done, but go for simple ultrasound done to determine the well being of the foetus. To the attendants outside, they lie about the sex of the foetus. "It will either be a boy or a girl, as chances of getting it right are 50 per cent," says Dr Girdhari Lal Singal, state project coordinator for Beti Bachao, Beti Padhao, Haryana. Even if the result is contrary to the claim made after the ultrasound, nobody complains in such cases, he adds.