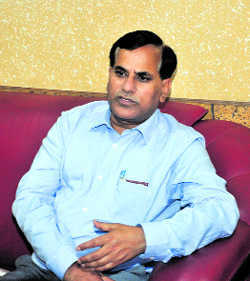 Tribune News Service
Chandigarh, June 1
Land acquisition for the Chandigarh-Baddi railway line has been commenced by the Northern Railway, which recently gave Rs 45 crore to the Himachal Government as its share for land acquisition for the project.
The Himachal Government will also spend a similar amount for land acquisition. The Chandigarh-Baddi railway line is 33.2 km long.
Ambala Divisional Railway Manager Dinesh Kumar said there were three stakeholders in this project — the Railways, Himachal Pardesh and Haryana. The cost of this project had been pegged at Rs 1,540 crore, which would be shared equally by all three stakeholders. Of the total amount, a sum of Rs 516 crore was required for land acquisition. He said the railway authorities had written to the Himachal Government to give its share.
The dedicated railway link for the hilly state was a long-pending demand of industrialists of the area. The rail connectivity would benefit more than 4,000 industrialists and would also solve the problem of traffic congestion on the Pinjore-Baddi road. More than 500 containers go out of Baddi every month by road.
In 2009, the Chandigarh-Baddi link ran into trouble as land acquisition was to be made in the area earmarked for a mega housing project, Prideasia.
Top News
Locals and police rush to the spot and launch the rescue ope...
He was admitted to a Nagpur-based hospital last week for the...
The 9 victims include 3 children
22 detained ahead of minister's first visit since clashes br...
Forecast for rainfall, thunderstorm over next 3-4 days