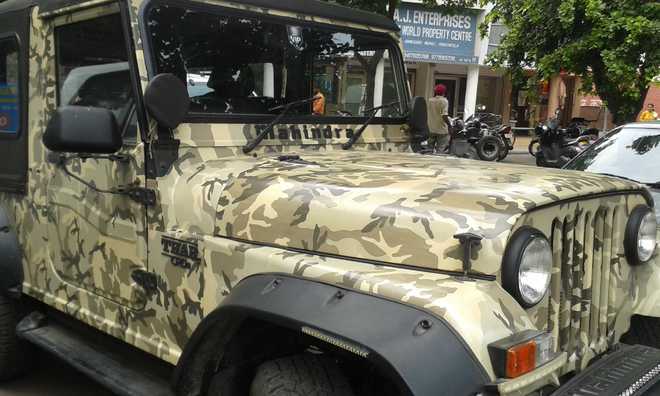 H. Kishie Singh
The Pathankot episode earlier this year still rankles. It was a total disaster. It witnessed a poor response from the Indian security agencies and lack of any type of damage control was highlighted by mismanagement.
The only positive outcome was that the Government was jolted and catapulted into some sort of action. Not much different from locking the stable doors after the horse has bolted. And then only closing half the door.
As of now, a civilian cannot wear any clothing item that resembles an army uniform or colours, from khaki to olive green (OG) to camouflage. In a knee-jerk reaction, the Chandigarh Police has, through the District Magistrate passed an order that no shopkeeper be permitted to sell uniforms, logos, flags, stickers of the police or armed forces to anyone without their ID proof of belonging to the forces.
What about the vehicles these people drive? The infiltrators, like the ones who attacked at Pathankot airbase would love to hi-jack a 'fauji-looking jeep' and drive into a cantonment. Please remember they did hi-jack a car during their Pathankot misadventure. It was a civilian vehicle. These camouflaged vehicles are readymade for aiding a terrorist. The accompanying photograph shows a jeep that has been 'stickered', that is the buzz-word! It is in fauji camouflaged colours.
So much for being a fauji! The colours khaki, OG and camouflage (jungle, desert, snow) also belong to the armed forces. Which means that civilians should not use these colours. Only vehicles registered in favour of the armed forces may use them. How do you tell these fauji vehicles apart from civilian vehicles?
All armed forces vehicles have an arrow referred to as Broad Arrow (BA) as a prefix to a number that follows. This allows a fauji vehicle to be easily identified, even from a distance. If the Chandigarh Police saw the danger of uniforms, they did not see the danger of vehicles carrying fauji colours illegally.
After the Brussels affair, a couple of weeks ago, all the news headlines screamed, 'High alert in Punjab, Delhi.' Blah blah blah'! The country went into an overdrive on security. Flights were cancelled, security at airports and railway stations was beefed up. Even though it was an almost red-alert, the security agencies did not see the woods because of the trees. The real danger could have been driving around the streets under their nose. The Chandigarh Police challan book has Section 70, Sub-Section 3, which reads, 'Unauthorised post-registration alteration of the vehicle engine/basic structure.' We should be familiar with this clause by now.
At this point, I have to ask two questions. First: Did our intelligence agencies not see this danger that was driving around, and still is, on our streets, which could be a major asset to the enemy? Second: why are they called intelligence agencies?
These vehicles, all civilian, could be the weakest link in our fight against terror. The RC of your car mentions the colour of the car. You cannot change it. Yet, some are painting their vehicles 'army green', matt black, anything to be different. Owners spend up to Rs 3-4 lakh on jazzing up a bike and Rs 8-10 lakh on a car. One of the proud owners said, 'It gives me identity!' So much for security!
Happy Motoring!
Top News
Russian President vows to protect newly annexed Donetsk, Luh...
It is 80-year-old former 9-term MLA and a 3-term MP Kharge v...
Stated that 'no one does such things on purpose' and added t...
There is a heated argument between MLA Sukhpal Khaira and Sp...
After the first referendum, both countries have issued trave...